There's a new meme in town: Everything you need to know about the emoji sheriff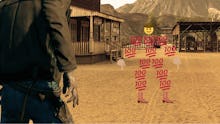 Over the past week you may have noticed a new character in your Twitter timeline: the emoji sheriff.
These sheriffs are here to lay down the law on various topics represented by their emoji bodies. They've quickly become a popular meme among Twitter users.
According to New York magazine, the very first (and very NSFW) emoji sheriff was shared by comedian Brandon Wardell.
Wardell famously created the "Dicks Out for Harambe" meme that went viral in 2016, and though amusing, it's highly unlikely that the emoji sheriff will reach similar mass appeal.
ASCII art has been around for a while on Twitter. For years, users have been creating cats, buildings and sunglasses using the characters. The emoji sheriff is just the latest version of this genre of art.
If you're looking to create your own emoji sheriff, the process is pretty simple. Just fire up your Twitter app and use the space bar and return keys to properly align the emoji.
And you might want to act fast, it won't be long until this meme rides off into the sunset.