Donald Trump Jr.'s Russia Email: 3 key things to watch for after Monday's bombshell report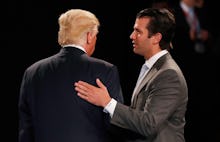 On Monday evening, the New York Times reported that President Donald Trump's eldest son, Donald Trump Jr., received an email in advance of meeting with a Russian lawyer in June 2016. That email explained to him that the lawyer, whom he was meeting with in order to obtain damaging information on Trump opponent Hillary Clinton, had ties to the Russian government.
The Monday evening report appears to refute Trump Jr.'s statement to the paper on Sunday that he knew nothing of any ties to the Kremlin that Natalia Veselnitskaya, the lawyer who claimed to have damning intel on Clinton, may have had.
Though all may be quiet in Trumpland on Tuesday morning, here are three key things to watch for as the day gets going.
Trump's Twitter: Since news first broke of Trump Jr.'s meeting with Veselnitskaya, Trump, who loves to tweet assertions that the investigation into his campaign's ties to Russia are "fake news" and "the single greatest witch hunt in political history," has yet to weigh in on the matter on Twitter, opting instead to focus on attacking ousted FBI head James Comey and defending daughter Ivanka.
All eyes are on Trump's Twitter— which critics have characterized as bizarre, erratic and aggressive — for when the president breaks his silence on the allegations against his eldest son by the so-called "paper of record," which is one of his least favorite media companies.
Despite the bombshell report, the president's first tweet Tuesday morning was about another matter entirely: a strange criticism of Senate Democrats for slowing down the confirmation of his appointments.
Trump's government: Watch also for a possible response to the Times story from the president's most critical voices within his own party, which include Sens. Lindsey Graham (R-S.C.) and John McCain (R-Ariz.). Just this week, they admonished Trump for suggesting he would work with Russian President Vladimir Putin to build a cybersecurity unit that would protect the integrity of American elections.
For Republicans who may come to Trump Jr.'s defense, watch members of congress like Rep. Devin Nunes (R-Calif.), who in April had to step down from the Russia probe after being accused of giving "unauthorized disclosures of classified information" to the Trump White House.
Right-wing media: When it comes to taking the temperature of how Trump supporters feel about the president, there is, perhaps, no better thermometer than conservative media coverage of White House intrigue.
Many on Twitter noticed that the Drudge Report, a mainstay of right-leaning media, seemed to cover the Times' Trump Jr. email story by accepting its premise, rather than suggesting it didn't carry water.
Other conservative outlets, such as InfoWars and Breitbart, have remained mum on the report so far. Instead, the former is continuing its regularly scheduled coverage attacking CNN and the latter is tweeting schadenfreude over Trump critic Megyn Kelly's anemic viewership.