Russian lawyer who met with Donald Trump Jr. says he wanted dirt on Clinton "so badly"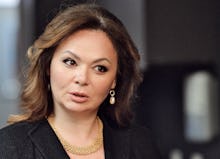 Natalia Veselnitskaya — the Kremlin-connected lawyer whose meeting with first son Donald Trump Jr., son-in-law Jared Kushner and former Donald Trump campaign chairman Paul Manafort is sending shockwaves through the Trump White House — said she never had the compromising information on Hillary Clinton that Trump Jr. was seeking when he met with her in June 2016.
"It's quite possible that maybe they were longing for such information," Veselnitskaya said in an interview with NBC News, when asked how the three men had the impression that she had dirt on Clinton. "They wanted it so badly."
Veselnitskaya appeared to dodge a question from NBC News when asked about what the purpose for her meeting with the three men at the top of the Trump campaign was.
Instead, she said all she knew was that Trump Jr. "was willing to meet."
She went on to describe each man's role in the meeting. Kushner was only in the room for "the first seven to 10 minutes," Veselnitskaya said, adding that Manafort "was always looking at his phone" and "never took any active part in the conversation."
Ultimately, Veselnitskaya denied she had any ties to the Kremlin, despite the fact that her clients include "state-owned businesses and a senior government official's son," according to the New York Times, which broke the story on the meeting.
"Nyet," Veselnitskaya said when asked if she had any Russian government connections.