For the first time, 'Project Runway' will have diverse models of different sizes this season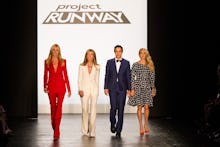 Size diversity in fashion has spread from magazines to commercials to ads, and now to fashion-oriented TV shows. On Good Morning America on July 6, the host and judges of Project Runway — Heidi Klum, Nina Garcia and fashion designer Zac Posen — announced that this coming season (the show's 16th), will be making history.
For the first time, Project Runway will team designers up with a diverse cast of models of different sizes, meaning all models won't be a size 2 or 4, as per usual, but perhaps a size 8, 10, 12 and up.
"The perception of beauty really changes throughout the times," Garcia told Good Morning America's Lara Spencer. "We went from, like, Twiggy to the supermodel to the waif. Now, happily, the industry is embracing body diversity and so are we. I'm very proud to be a part of a show that has full-figured women, real women, designers designing for women with real body types."
The change comes nearly two years after Project Runway crowned its first-ever plus-size designer, Ashley Nell Tipton, who made history by showing almost exclusively plus-size clothing on the show.
"It's all coming from a good place," Tipton told Mic in 2016, before she hosted another fashion show herself. "We just want clothing to be able to express who we are, just like everyone else out here in this world. Just because of our size, we should not be defined. We're just like everyone else."
Although various Project Runway seasons have had challenges that asked the designers to create outfits for "regular women" (read: not models) of different sizes (and one time even their moms), this is the first time when women of different sizes will be a constant presence on the show.
This is exciting for a number of reasons. For one, it's a sign that models of various different shapes and sizes are entering mainstream fashion culture. For another, we already know that the finale show of Project Runway has the designers showing at New York Fashion Week. If these diverse models are included in those shows too, that means PR will have the most size-inclusive runways in its history, joining Tipton, who hosted an entirely plus-size runway in 2015.
Project Runway premieres on August 17.