Bill Cosby reportedly considering replacing defense attorney for retrial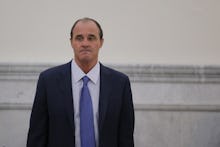 With his retrial looming, accused serial rapist Bill Cosby is reportedly considering a substantial change to his defense lineup.
According to Deadline, the 79-year-old comedian might remove Brian McMonagle from his roster when he returns to Pennsylvania's Montgomery County Courthouse on November 6. As an unnamed source told Deadline, the decision is "not personal."
"A new trial is a chance to reset and find the right players to get the judgment the defense desires," the source said. Cosby's camp did not confirm the suggestion — publicist Andrew Wyatt said only that "right now, our legal team is in place," on Monday evening.
McMonagle did not comment on the assertion, but speaking to CNN in late June, he told interviewer Jean Casarez he was ready "to go to back and do battle for him [Cosby] again." McMonagle, as Deadline pointed out, has been with Cosby since the beginning, signing on as defense attorney shortly after authorities arrested Cosby in late 2015.
The disgraced comedian was charged with three counts of aggravated indecent assault for allegedly having drugged and molested former Temple University employee Andrea Constand in 2004. When Cosby's case ended in a mistrial on June 17, Cosby's legal team heralded the jury's indecision as a great victory.
"Justice is real," McMonagle said outside the Norristown, Pennsylvania, courthouse following the ruling, according to Page Six. "It lives here in Montgomery County."
"You don't always get what you want, sometimes you get what you need," he reportedly added.
Yet a mistrial isn't a win for anyone, and the defense certainly seems to have offered jurors a less robust argument than did the prosecution. While the latter team called a total of 12 witnesses during the six-day trial, the former called only one. In his closing arguments, McMonagle leaned hard on the assertion that Constand was, as Jezebel stated "a liar who wanted it". In Page Six's assessment, he all but phoned it in, theatrically imploring jurors, "Do your job better than I did mine."
This isn't the first time Cosby has made defense adjustments, though. As Deadline reported, attorney Marty Singer left the team in the summer of 2015, and Cosby dismissed Singer's replacement — former Assistant U. S. Attorney Christopher Tayback — last July, calling in Angela Agrusa, who should be returning for the retrial. Attorney Monique Pressley departed the defense team in August.