5 questions we have for Donald Trump Jr.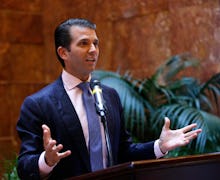 This is Mic's daily read on Donald Trump's America. Welcome to the political newsletter that is wondering if we'll ever stop waiting on CBO scores.
Want to receive this as a daily email in your inbox? Subscribe here.
5 questions we have for Donald Trump Jr.
The New York Times on Monday revealed the president's eldest son was sent an email saying his meeting with a Kremlin-tied lawyer would be related to Russian efforts to help his father win the election. It's the first evidence someone close to Trump knew Russia was trying to help him beat Hillary Clinton.
Here are five questions we need answered as the concerns around Trump Jr. grow:
• Why did Trump Jr. dismiss reports Russians were behind hacking to influence the election last July if he had read an email saying otherwise?
• Given this meeting occurred — and Trump Jr. confirmed it did — why has the White House repeatedly insisted that no Trump campaign officials met with anyone tied to the Russian government during the campaign?
• Did Trump Jr. know of Russian involvement before the Democratic National Committee attributed the hacking to Russia? (The DNC connected the hacking to Russia on June 15, 2016. The meeting with the Russian lawyer was one week before that.)
• Campaign chairman Paul Manafort and Trump son-in-law Jared Kushner were at the meeting. Did they also see the email about a Russian government effort to aid Trump?
• Trump Jr. said he will talk about his meeting with the Senate Intelligence Committee. When will that testimony occur? If so, will it be written or happen publicly?
Today's question: With the latest news about Donald Trump Jr., are you paying closer attention to the Russia story? Or did your interest never fade? Email your thoughts to trumpsamerica@mic.com.
We're seeking your support to expand our coverage of Donald Trump. As little as a $1 a month will give you access to an exclusive group to interact with Mic journalists and grow our reporting. Learn more here.
The Russian meeting fallout
So far, no Trump tweets or White House denials. But Trump Jr. is lawyering up, hiring an attorney who has defended members of the mafia. Trump Jr. has reason to be worried. A former National Security Agency attorney: "If you work in the White House, you need to have a plan in place for retaining a lawyer."
Kushner may be in trouble too. He did not disclose the meeting with the federal government until recently — a day-one requirement, given his White House role.
Trump first learned of the meeting at the end of his overseas trip last weekend. The Times wrote the president grew "frustrated ... because it was yet another story about Russia that had swamped the news cycle." (Read Mic's analysis of how Trump tries to change the narrative in the face of troubling news.)
On Today, the lawyer who met with Trump Jr., said, "I did not have Clinton info they wanted." She also denied having any ties to the Russian government and claimed people she met with from Trump's campaign wanted dirt on Clinton "so badly."
Meanwhile: Trump's team is working overtime to stall a bill in the House that would solidify sanctions on Russia.
Protesters and senators aren't stopping their health care push
At least 80 people were arrested Monday at a Capitol Hill sit-in protesting the Republican Senate health care bill. GOP senators have characterized that current plan as "dead," but a new proposal from Republicans is expected this week.
What, exactly, is in that bill? We still don't know. The latest version is reportedly more conservative and allows insurers to sell health care coverage outside the regulatory scope of Obamacare. That means people could buy plans that don't cover pre-existing conditions or essential health benefits, like hospital stays or maternity care.
The bill could be released on Thursday, with a new CBO score following next Monday. The vote would take place next week. But there's still no evidence Senate Majority Leader Mitch McConnell (R-Ky.) has the votes.
News and insight you cannot miss:
The U.S. is planning to go its own way in dealing with North Korea by targeting Chinese banks and companies that do business with the nuclear-armed American foe.
The president is postponing his visit to the U.K. until next year.
Secretary of State Rex Tillerson is in Qatar looking to repair relations between the U.S. ally and other friends in the region.