Here are all the documented meetings between the Trump team and Russia — that we know of so far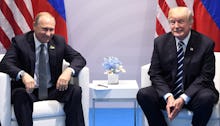 Donald Trump Jr. confirmed over the weekend that he met with a Kremlin-connected lawyer during his father's White House run in 2016, apparently in the hopes of gathering damaging information about Democratic opponent Hillary Clinton.
The June 2016 meeting with Natalia Veselnitskaya — which was attended by President Donald Trump's son-in-law and senior adviser Jared Kushner and then-campaign chairman Paul Manafort — comes as the FBI and congressional probes into Russia's election interference investigate possible collusion between the Trump team and the Kremlin.
The president has repeatedly expressed doubt over the intelligence community's conclusion that Russia meddled in the United States election on his behalf, and has described the investigations into his links to the Russian government the "single greatest witch hunt" in the history of American politics.
But Donald Jr.'s Trump Tower meeting with Veselnitskaya is only the most recent contact between someone in Trump's orbit and Russia to come to light.
Here are all the contacts between the Trump team and the Kremlin that have been documented so far.
Michael Flynn
Retired General Michael Flynn became the first casualty of the Trump administration when he was forced to resign as national security adviser in February after he was revealed to have discussed sanctions with Russian ambassador Sergey Kislyak.
Trump reportedly asked former FBI Director James Comey to kill the investigation into Flynn, raising questions about whether the president had obstructed justice.
Roger Stone
Roger Stone — a GOP political operative and Trump adviser — admitted in March that he'd had an "exchange" with Guccifer 2.0, the online persona believed to be behind the Russian hack into the Democratic National Committee's email servers in 2016. Stone, who is said to have remained a Trump confidante since leaving the campaign in 2015, described the online exchange as "innocuous."
Carter Page
Trump identified Carter Page as one of his campaign's foreign policy advisers in March 2016. Page, an investment banker and oil industry consultant with deep ties to Russia, was virtually unknown in foreign policy circles. In April 2017, it was revealed that Page had been targeted for recruitment by a Russian spy in 2013. He had met and exchanged documents with Victor Podobnyy, an intelligence operative who was charged in absentia by the United States in 2015 for acting as an unregistered agent of a foreign government.
Rex Tillerson
Secretary of State Rex Tillerson, former CEO of ExxonMobil, has deep business ties to Russia. Alexey Pushkov, a member of the Russian parliament, praised Trump for nominating Tillerson for the role, tweeting that he has "a lot of experience working with Russia." He received the Order of Friendship award from Russian President Vladimir Putin after helping Exxon work out a partnership deal with Rosneft, an oil company that is majority owned by the Russian government, in 2011.
Jeff Sessions
Attorney General Jeff Sessions had to recuse himself in March from the Trump-Russia investigations after it was revealed that he twice had contact with Kislyak — despite stating under oath that he had not. He has also faced scrutiny for a possible third meeting with the Russian ambassador at an April 2016 campaign event at the Mayflower Hotel in Washington, D.C.
Donald Trump Jr.
Donald Trump Jr. — the president's eldest son who, with his brother Eric, is operating the Trump business empire — initially told the New York Times that he "primarily discussed a program about the adoption of Russian children" in his meeting with Veselnitskaya, whose clients included "state-owned businesses and a senior government official's son."
But a day later he confirmed in a statement that he had met with the Kremlin-connected attorney seeking damaging information about Hillary Clinton — information he knew would be coming from the Russian government.
Paul Manafort
In addition to being present in the meeting with Trump Jr., Kushner and Veselnitskaya, Manafort reportedly made millions secretly working for a Russian billionaire to promote Putin's interests in the U.S.
Jared Kushner
Kushner, the president's son-in-law and influential senior adviser, has been found to have had multiple contacts with Russians. In December, he met with Sergey Kislyak — and failed to mention it on his security clearance forms, as was reported in April. He had also failed to disclose a meeting he'd taken with Russian spy school graduate Sergey N. Gorkov, the head of state-owned Russian bank Vnesheconombank, which has been a target of United States sanctions.
After the FBI's Russia investigation expanded in May to include Kushner, it was reported that he had also discussed the possibility of setting up a secure line of communication between the Trump transition team and the Kremlin.
Kushner attended Donald Trump Jr.'s meeting with Veselnitskaya.
Donald Trump
President Donald Trump himself has had numerous dealings with Russians dating back to at least 1987, when he visited the country on the invitation of Soviet ambassador Yuri Dubinin.
He has long aspired to build a Trump Tower in Moscow, and apparently discussed collaborating with Putin-connected Russian real estate mogul Aras Agalarov and his pop star son, Emin, to get it built. Trump chose the Agalarovs to host the 2013 Miss Universe pageant in Moscow; on multiple occasions, Trump publicly mused about the possibility of Putin showing up at the event.
Trump reportedly revealed "highly classified information" to Kislyak and Russian Foreign Minister Sergey Lavrov during an Oval Office meeting in May, apparently bragging that he receives "great intel every day."
Trump — who repeatedly praised Putin from the campaign trail — met face-to-face with the Russian president at the G20 summit in Hamburg last Friday. While Tillerson claimed that Trump pressed Putin on Russia's election interference, the Kremlin said Trump had "accepted" Putin's denial.
Trump said it was an "honor" to meet with Putin, who in turn said that he was "delighted" to meet with Trump.