PS4 Update 4.72 Patch Notes: New system update improves performance and not much else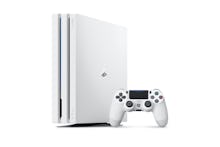 If you turned on your PS4 today, you might have noticed a system software update in your download bin. Version 4.72 is out and you might be wondering if it does anything substantial or interesting at all.
Sorry to disappoint you.
PS4 version 4.72 improves performance, supposedly
According to Sony, PS4 update 4.72 "improves the quality of the system performance." That's it. If you've felt like your PS4 has moved a little slowly recently, maybe this will make it better.
Sometimes system updates don't do huge, important things. That's fine. We'll get a big one for PS4 sometime soon. Maybe the next one will make mine stop showing me a notification from 2015 every time I check notifications.
More gaming news and updates
Check out the latest from Mic, like this essay about the sinister, subtle evils lurking in rural America that Far Cry 5 shouldn't ignore. Also, be sure to read our review of Tekken 7, an article about D.Va's influence on one Overwatch player's ideas about femininity and an analysis of gaming's racist habit of darkening villains' skin tones.