Tim Kaine on Donald Trump Jr.'s Russian lawyer meeting: "We're now beyond obstruction of justice"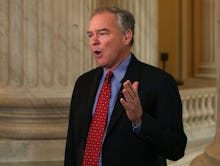 Sen. Tim Kaine (D-Va.) said first son Donald Trump Jr.'s attempt to collect damaging information on Hillary Clinton from a Kremlin-connected lawyer raises the stakes of the investigation into the Trump campaign's possible ties to Russia.
"We're now beyond obstruction of justice in terms of what's being investigated," Kaine, who served as Clinton's running mate in the 2016 presidential election, told reporters on Capitol Hill, according to NBC News' Frank Thorp V. "This is moving into perjury, false statements and even potentially treason."
Kaine's comments come the morning after news broke that Trump Jr. was told in an email that the dirt Russian lawyer Natalia Veselnitskaya purported to have was part of the Russian government's plan to help then-candidate Donald Trump's presidential campaign.
News of the meeting has put the Russia investigation back at the center of the Trump news cycle. And Republicans like Sen. John McCain (R-Ariz.) are warning that it won't be the last of the potentially damaging information on Russia to come out.
"I've said many times in the past, there's another shoe that will drop, and there will be other shoes that will drop," McCain told MSNBC's Kasie Hunt Tuesday morning.