Donald Trump Jr. releases emails setting up meeting with Kremlin-connected lawyer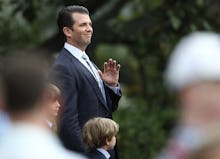 First son Donald Trump Jr. on Tuesday released the emails he sent to set up a meeting with a Kremlin-connected lawyer who claimed to have damaging information on Hillary Clinton.
In the emails, it's clear that Trump Jr. knew the person he was meeting with was tied to the Russian government, and that the information he thought he'd receive was part of the Russian government's attempt to help Donald Trump's presidential campaign.
"The Crown prosecutor of Russia met with his father Aras this morning and in their meeting offered to provide the Trump campaign with some official documents and information that would incriminate Hillary and her dealings with Russia and would be very useful to your father," Rob Goldstone, the music publicist who set up the meeting, wrote in an email to Trump Jr. with the subject line "Russia — Clinton — private and confidential."
"This is obviously very high level and sensitive information but is part of Russia and its government's support for Mr. Trump," Goldstone continued, adding that he was thinking of directly contacting Trump through his longtime secretary Rhona Graff, but reached out to Trump Jr. first.
"If it's what you say I love it," Trump Jr. responded to Goldstone.
While Trump Jr. initially painted the meeting as a setup, it's clear from the emails that he knew from the outset the meeting was with a Russian official — and that the Russian government was attempting to aid the Trump campaign.
In a statement, Trump Jr. says he released the emails to be "totally transparent."
But the emails are likely to further inflame the fervor around the Trump administration and its relationship with Russia.
Multiple top Trump administration aides — including Trump himself — have denied that the Trump campaign colluded with Russia.
But politicians from both sides of the aisle say more shoes are expected to drop in the investigation into the Trump campaign's relationship with Russia.
And 2016 vice presidential nominee Sen. Tim Kaine (D-Va.) has suggested the investigation will now move toward "treason."
July 11, 2017 11:46 a.m.: This article has been updated.