Parents claim Texas teen livestreamed his suicide as part of deadly "Blue Whale" internet craze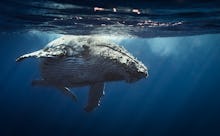 The parents of Isaiah Gonzalez, a Texas teen who livestreamed his own suicide over the weekend, said he did so as part of the deadly "Blue Whale" internet challenge. His body was discovered Saturday morning.
The challenge, which originated in Russia according to Wikipedia, involves a player harming themselves with increasing intensity over a period of 50 days, culminating in suicide. The self-harming behavior must be documented on social media, and each Blue Whale participant must report to an "administrator" who doles out the macabre tasks outlined in a Reddit thread. These predatory administrators find and groom their victims through apps and online chat rooms.
"You have to carve a number into your arm, you have to cut yourself," Alexis, Isaiah's older sister told News 4 San Antonio. Those administering the challenge send threats to participants if tasks are not completed on time.
Gonzalez's parents were heartbroken when they found their son dead. He had used a shoe to prop up his phone in order to broadcast his death.
He was set to begin his sophomore year of high school. They had no idea that anything was wrong prior to the tragedy. "He had just joined ROTC," Gonzalez's father told told News 4 San Antonio.
The teen's father told KSAT that he had vaguely heard about the Blue Whale challenge online and had even asked his kids whether they knew anything about it or were involved. His son told him that though he was aware, he would never participate in anything like that.
Since his passing, however, Gonzalez's family discovered that he had been sending photos of himself involved in activities like drinking bleach and listening to strange music to friends over social media, KSAT reported.
"They blew it off like it was a joke, and if one of them would have said something, one of them would have called us, he would have been alive," Gonzalez's sister said.
"I want parents to go through their phones, look at their social media," Mr. Gonzales told KSAT. "If they're on that challenge already, they can catch that from happening."
According to Wikipedia, the challenge is called "Blue Whale" in reference to whales beaching themselves, which some have interpreted as suicide.
Gonzalez's death is not the first to be linked to the challenge in the U.S. On Monday, CBS reported that a 16-year-old in Atlanta is believed to have killed herself after participating in the challenge.
The deaths have prompted school districts across the country to begin spreading the word to parents. Law enforcement officers have also been attempting to get the word out. The Miami Police Department released a video in May outlining the challenge and begging people to watch the video and "share with all your friends and family."
Editor's note: For information about suicide prevention or to speak with someone confidentially, contact the National Suicide Prevention Lifeline at 1 (800) 273-8255 or the Crisis Text Line at 741-741. Both provide free, anonymous support 24 hours a day, seven days a week.