Former NSC senior director on Trump Jr. emails: "It's worse than it looks"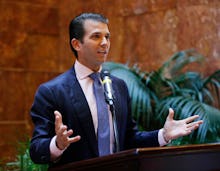 On Tuesday, Donald Trump Jr. tweeted screenshots of emails showing he knowingly met with a Kremlin-linked lawyer in June 2016 in order to obtain damning information on his father's opponent, Hillary Clinton.
Shortly after President Donald Trump's eldest son shared those emails, Ned Price, former senior director for the National Security Council, told Mic that the email exchange "provided a gift" to Moscow by showing that the Trump campaign team could be, in Price's words, "compromised."
"It's worse than it looks," Price said. "For months, the Russian government has known something the American people didn't: The Trump team was looking to deal with Moscow."
"The moment the Trump team tried to obscure that fact, as they did repeatedly during the campaign, they became compromised to Russia," Price continued. "The question is: What price did Moscow exact?"
On Monday evening, the New York Times published a bombshell report claiming that, contrary to a prior statement Trump Jr. had given to the paper on Sunday, he actually knew that Natalia Veselnitskaya, the lawyer with whom he met in June 2016, had Kremlin ties. Alan Futerfas, a lawyer for Trump Jr., immediately dismissed the interest around the meeting as "much ado about nothing."
According to the Times, the email notifying Trump Jr. of Veselnitskaya's ties to the Kremlin came from music publicist Rob Goldstone, who organized the meeting. In a statement on Twitter on Tuesday, Trump Jr. said he was releasing "the entire email chain" between him and Goldstone concerning the June meeting in question.
In the very first email made available in the thread, Goldstone writes that he has "very high level and sensitive information" for Trump's father on behalf of the Russian government.
"The Crown prosecutor of Russia met with his father ... this morning and in their meeting offered to provide the Trump campaign with some official documents and information that would incriminate Hillary," Goldstone said. "This is obviously very high level and sensitive information but is part of Russia and its government's support for Mr. Trump."
As of Tuesday afternoon, the president has yet to publicly acknowledge the report and its claims about his eldest son.