George R.R. Martin is not writing the script for 'Who Fears Death' or the 'Game of Thrones' spinoffs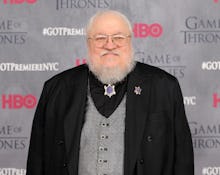 Though this may still be painful to read, Game of Thrones will come to an end after season eight. Fortunately, fans of George R.R. Martin's work need not worry that the prolific author's presence will no longer be felt on television. In fact, Martin has quite a few small screen projects in the pipeline, including several potential Game of Thrones spinoffs and a Syfy series based on his Nightflyers novella. And there's more.
Martin has also recently been tapped as an executive producer on the television adaptation of Nnedi Okorafor's novel Who Fears Death. Okorafor announced the news Monday on Twitter, revealing that the series was optioned by Martin's current cable home, HBO. Taking place in Africa during a post-apocalyptic future, Who Fears Death follows Onyesonwu, a child of rape who begins to exhibit magical powers.
While fans should be excited to hear Martin will continue working on new and exciting TV series, do not expect him to be penning scripts for the projects any time soon.
After Okorafor's announcement that Who Fears Death would be heading to HBO, Martin confirmed on his blog that he would indeed be an executive producer on the series, but quickly quashed any rumors that he would be scripting the pilot.
"I will not be writing the pilot script or adapting Nnedi's novel, and it's doubtful that I will write any episodes should we go to series," Martin wrote.
Martin also reaffirmed his commitment to finishing Winds of Winter, the long-gestating sixth installment of his A Song of Ice and Fire series (which serves as Game of Thrones' source material).
"Look, I probably won't be writing episodes of any television shows until Winds of Winter is done and delivered, and that goes for the five Game of Thrones successor shows as well," Martin explained.
As for Who Fears Death, Martin wrote that Okorafor is "an exciting new talent in our field, with a unique voice."
"Even in this Golden Age of television drama, there's nothing like Who Fears Death on the small screen at present," he added. "And if I can play a part, however small, in helping to bring this project to fruition, I'll be thrilled."
Mic has ongoing coverage of George R.R. Martin. Please follow our main George R.R. Martin hub here.