'Brown Girls' wants to tell women of color's stories in all their messy, complicated glory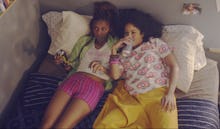 The trailer for Brown Girls opens with the show's leads, Patricia and Leila, talking to their friend Victor candidly about sex before breaking off into a montage of the three laughing, drinking, lying in bed and finally pledging, "Single girls club forever."
Jamila Woods plays in the background as the camera follows the characters into bars, basement parties and around Chicago's street corners. There are no white faces in sight – this is a show about a 20-something black woman and a queer Pakistani woman supporting each other through the highs and lows of everyday life.
The web series, which debuted in February, has delivered on the promise of its trailer. It's a show that feels both refreshing and familiar to audiences who know what it's like to reassure your auntie that you'll at least consider going to the mosque for Eid — as Leila does in the series premiere — but who've rarely seen that experience portrayed on-screen.
Brown Girls joins a chorus of shows that disrupt traditional representations of women and people of color, notably The Mindy Project, Fresh off the Boat, Blackish, and most recently, Master of None. Now that HBO has hired Fatimah Asghar and Sam Bailey to adapt the web series — which just landed an Emmy nomination — for television, Brown Girls will follow in the footsteps of Issa Rae's Insecure, which was originally conceived as the web series Awkward Black Girl.
But don't be too quick to compare the two — while Asghar and Bailey have said in previous interviews that they owe a certain amount of credit to Rae for paving the way for women of color in the industry, they insist we see their shows are distinct.
"While there's a lineage to Awkward Black Girl, Brown Girls is mostly through the eyes of a South Asian queer woman," Bailey said in a phone interview, referring to Leila. "People reduce things to being about people of color. If we did that to men, we'd be doing a disservice to all other shows that way too."
When announcing the pair's newly minted HBO contract, many outlets couldn't resist comparisons to other female-driven shows, with W magazine announcing, "HBO swaps Girls for Brown Girls." Comparisons like this feel somewhat inevitable, considering when Girls premiered, it had been compared, ad nauseum, to Sex and the City. When Broad City came on the scene two years later — albeit on Comedy Central, not HBO — it had been referred to as the "anti-Girls."
Asghar said it's important to name your "artistic lineage," but not at the expense of glossing over a show's finer points.
"It's not helpful when people are trying to categorize or diminish the show by being like, "Oh, you're like the diverse Girls,'" she said. "That stuff bothers me because then you're not really seeing the potential of these shows to have real reach and scope."
Bailey said dubbing the show something along the lines of the "diverse Girls" also puts them in the precarious position of having to speak for all women of color — an impossible request, and one that simplifies the experience of being a woman of color in the world.
"I would love the day when there's all these shows that are diverse so that not every show has to have this burden of representing all of these things," Bailey said. "I feel like that happens a lot — you have one show that's diverse and so people want to see all of these things in it. It puts an unfair pressure on diverse stories because there are still so few."
Asghar and Bailey, however, refuse to succumb to the pressure of having Patricia speak for all black women or Leila speaking for all South Asian women. If there's one thing the two want to accomplish, it's to establish Patricia and Leila so they transcend whatever identity categories people would otherwise neatly place them in.
Part of achieving that simply involves allowing Patricia and Leila to fuck up.
"People reduce things to being about people of color. If we did that to men, we'd be doing a disservice to all other shows that way too."
"For me, it's of the utmost importance for my characters to be flawed and multilayered and not just be the Olivia Popes," Bailey said. "It's a big burden to have to be the hero of your story and of your race and of your people. I love Michelle Obama, but I can't be Michelle Obama as much as I would like to."
Bailey doesn't want Leila and Asghar to be, either. Both characters have their fair share of messy moments: Leila's comes when she punches a woman in the face at a party after finding out she's sleeping with the woman she loves, but hasn't gotten up the courage to commit to. For Patricia, it's when she gets into an argument with a former hookup and his date at work, causing them to leave and prompting her to indulge in a few too many shots at the bar while still on the job. The whole ordeal ends with her firing.
The not-quite-grown-up, imperfect female character is one that has recently enjoyed something of a golden era in television, from Lena Dunham's character Hannah Horvath to Fleabag's eponymous anti-hero. This trope, however, seems to be set aside for white women and, historically, white men. Asghar and Bailey hope to change that, all while letting their characters be uniquely themselves.
"I think the messiness trope — I see it more as characters that get to be flawed and lost and not the heroes or the centers of their stories," Bailey said. "Straight white characters have been able to do that ever since TV's been around."
Still, Bailey said the term "messy" on its own does little to describe Leila and Patricia, whose many facets reveal themselves in every episode.
There's the Leila who's telling her sister she's queer, and there's the Leila at brunch, teasing Victor for his unfortunate case of pink eye. There's the Leila talking in hushed tones to her aunt while a naked woman waits for her to come back to bed, and then there's the drunk Leila begging for that woman to take her back. It's the same with Patricia, who talks a big game when she calls an Uber for a man she's just had sex with, but who's vulnerable and earnest when her mother tells her she and her dad are going through a rough patch in their marriage.
"These moments offer the viewer deep insight into who these characters are and the many versions of who they are," Asghar said.
"Who's the same talking to their parents versus when they're talking to their lover who they're trying to woo, versus drunk at a party?" she continued. "That's the history of everyone I know."