SNES Classic Preorder: The best clones while you wait for the official console edition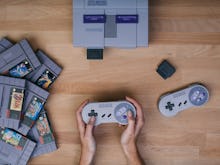 The SNES Classic is coming in September, and odds are you won't get one. Early orders of the SNES Mini are selling out constantly and Nintendo's admitted this, too, will be a limited-run device. But just because you can't snag a SNES Classic preorder doesn't mean you can't comfortably play all of your old favorite games. Here are your best options if you want to play the classics.
SNES Classic preorder troubles? Here are your alternatives.
Retron
Hyperkin's Retron consoles are another option to play old games. The Retron 1 HD will play your old NES cartridges in 720-pixel high definition. Or you can go with the Retron 2 if you want support for both Nintendo and Super Nintendo games. The Retron 5 is a great choice if you want to throw in Game Boy and Sega Genesis support. Unlike the SNES Classic, the games are not packed inside the console, so you'll have to provide those on your own. But it's a great option for those who prefer a two-in-one setup.
Retro Freak
Another option for playing old cartridges comes in the form of Cyber Gadget's Retro Freak. The design looks certified basic but the console supports NES, Super Nintendo, Game Boy, Genesis, TurboGrafx-16 games and more. This one also requires you BYOC — bring your own cartridges.
Raspberry Pi
The little motherboard that could is one of the main ways modders play NES games in the modern era. Lifehacker shows how you can use Raspberry Pi 3 and free software to play your retro games once again. With a micro SD card and the software RetroPie, you'll be playing all your old favorites in no time.
Retro Trio
The Retro Trio is another BYOC option that lets you play NES, SNES and Sega Genesis games. The device comes with two controllers and is compatible with the original console's gamepads you may have already. Word to the wise: It's cheaper on Amazon.
The official way: Nintendo 3DS and Wii U Virtual Console
It beats us why Nintendo is even selling a SNES Classic when you can play old games on their newer consoles (oh yeah, this is why). Despite the Virtual Console being mysteriously unavailable on the Nintendo Switch, you can still play old favorites for cheap on the 3DS and Wii U. If you have these around the house, snag some legacy titles from the eShop while they're still available.
Check out more Nintendo news and coverage
Looking for more Nintendo Switch news? Check out how blind gamers are using the Nintendo Switch and why you can't get your Mii to look quite like you. Nintendo's left Joy-Con issue turns out to be a hardware problem — here's how to solve it. Find out how to buy a console amid the recent restock. Learn why the Switch cartridges taste so bad. Check out our comparison photos sizing up the Switch to the Wii U GamePad (part one and part two), or find out how to make use of ethernet without the dock and the best way to get alerts when new stock arrives.