National Ice Cream Day 2017: Here's where to score free ice cream on Sunday, July 16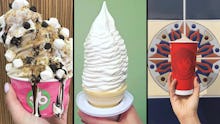 This week, Out of Office is celebrating all things ice cream. Follow along as we explore the sweet history and unexpected influences of America's favorite dessert.
Nothing tastes as sweet as a freshly scooped ice cream cone — unless that ice cream cone is free. On Sunday, stores around the country are dishing out servings of free or discounted ice cream to honor National Ice Cream Day. It's in your best interest to visit one — or a few — of these locations to make the most of these delicious deals. Check out the list below to find affordable ice cream near you.
McDonald's
McDonald's will be dishing out free vanilla soft-serve cones customers can snag by using the McDonald's app. Along with the sweet giveaway, McDonald's will gift one winner with free soft serve for life, which comes with the snazzy gold "Golden Arches Cone" trophy pictured above.
McDonald's announced in May that its soft-serve ice cream was officially free of artificial colors, flavors and preservatives, so if you haven't tried it yet, here's your chance to see if you can taste the difference.
Baskin-Robbins
The chain is offering several deals for its mobile app users on Sunday. There's a buy one cone, get one cone for 99 cents deal; a buy one classic two-scoop sundae, get one for 99 cents deal; and $2 off its new Polar Pizza ice cream treat, a shareable, customizable dessert with a cookie crust.
Whole Foods
On Sunday, Whole Foods is offering a special promotion where customers can buy any two Ben & Jerry's pints for $6. In addition, the chain will be hosting a "Sundae Fundae" event in stores, where customers get the chance to sample and make their own sundaes.
Wendy's
Whether you're Team Chocolate or Team Vanilla, you can get a Wendy's Frosty in either flavor for just 50 cents. The deal runs through Aug. 25.
Magnum New York
If you're in Manhattan on Sunday, bring a pal to Magnum New York City and, by checking in on social media, earn yourselves two Magnum bars for the price of one. You can have your bar dipped in dark, milk or white chocolate and select up to three toppings.
Dippin' Dots
The ice cream of the future will be gifting its customers — even Sean Spicer, probably — a free mini-cup of ice cream dots during select two-hour windows. Check locations to see what time your local store is hosting the promotion.
Carvel
Like soft serve? Carvel is dishing out a BOGO deal on Sunday and the size options are limitless, meaning you could ostensibly get two larges if that's what your heart wanted.
16 Handles
16 Handles mobile app users can download a coupon for a free 4-ounce cup of fro-yo or the chain's new ice cream for use between 12 p.m. and 5 p.m. on Sunday.
Friendly's
Give back by eating ice cream. Order a Friend-z of any flavor on Sunday and Friendly's will donate $2 to Boys and Girls Clubs of America. You'll also receive discount coupons for future Friendly's visits.