What Melania Trump wore her 25th week as first lady — from the G20 to Bastille Day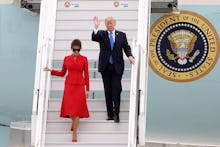 First lady Melania Trump was a bit of a jet-setter this week. On Saturday, she was in Germany, wrapping up the G20 conference. After returning to the White House that night, she was back in Europe by Thursday, arriving in France to meet the country's president and first lady, Brigitte Macron, for Bastille Day celebrations.
At this point, it remains evident that Trump has a few signatures. She loves a belt and a defined waist. She's also leaning more into bright colors, wearing red a number of times this week, as well as more patterns
Here is what Trump wore this week:
Saturday, July 8: A patterned grey dress and orange coat for the last day of the G20 summit
At the start of this week, Trump was still in Germany, choosing a last look for her G20 trip that included a grey and white patterned dress by Jil Sander, a minimalist German designer, along with a bright red Bottega Veneta coat and a matching orange belt by Hervé Pierre, the designer who famously created Trump's Inaugural gown.
Saturday, July 8: Touching down in the U.S. back in her favorite black-and-white combo
Later that day, for touching down back in the U.S. after yet another whirlwind European tour, Trump wore a black sweater and white lace skirt by Dolce & Gabbana, the designer duo who have become Trump's staunchest defenders in the fashion world.
Wednesday, July 12: A black-and-white ensemble (again) for leaving the White House
Seems like black and white is Trump's go-to traveling look, because on Wednesday, when leaving the White House for her flight on Air Force One to Paris, Trump wore a black suit by Escada, with visible white stitching, and a white T-shirt underneath.
The shoes were her beloved Louboutins.
Thursday, July 13: A red Dior suit for a Paris visit
Now, for her arrival and first day in Paris, Trump decided to nod to the city's fashion legacy, wearing a Dior jacket and skirt that called to mind earliest Dior patterns from the 1940s.
Her hair, it should be noted, was in a defined French twist, a style that France's first lady wears often.
Speaking of France's first lady, she opted for a blue and white ensemble, wearing one of her own signatures — a mini dress — in white, with blue shoes. Standing together, they were wearing both France's and America's flag colors.
We doubt this was planned, but hey, still cute.
Thursday, July 13: A red, white and blue Hervé Pierre for an Eiffel Tower dinner
Later in the night, Trump decided to wear red, white and blue all herself in a custom Hervé Pierre dress for a couples dinner with Emmanuel and Brigitte Macron inside the very elite restaurant in the Eiffel Tower.
The look itself is quite modern, with a funny little branch-like applique extending towards the blue skirt. Brigitte Macron, meanwhile, wore a black-and-white floral mini dress by Louis Vuitton with a silver collar.
For the night before Bastille Day in France, and for dining in the Eiffel Tower, something this obviously patriotic feels appropriate.
Friday, July 14: A Valentino dress for the Bastille Day parade
Finally, for the Bastille Day parade, the reason for the Trumps visiting the Macrons this week, Trump opted for a far more subtle pink, white and light blue floral dress by Valentino, in her favorite silhouette of a full skirt and cinched waist with a belt.
The shoes were a vibrant blue pair of Manolo Blahniks.
This was the look that Trump departed Paris in too, so the next time we see her, she'll be in the United States yet again.
You can see previous recaps of what Melania Trump wore here.