It's time to give someone other than Julia Louis-Dreyfus the best comedy actress Emmy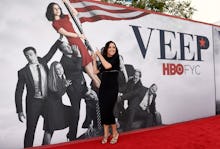 No one could argue with any semblance of seriousness that Julia Louis-Dreyfus is not amazing on Veep. As Selina Meyer, a one-time incompetent vice-president-turned-unelected-president-turned-political-outcast, Louis-Dreyfus is a hurricane. She's vitriolic and vicious, while still humanizing what could have been a caricature of a character. For her work on this show, she has been well-rewarded, winning five Emmys out of five nominations for outstanding lead actress in a comedy series. (Over the course of her entire career, Louis-Dreyfus has won seven Emmys for acting, from a total of 17 nominations.)
And now it's time to reward someone else.
For years, we've watched as Louis-Dreyfus has won over other deserving contenders — not more deserving, mind you, but as worthy of attention from Television Academy voters. Amy Poehler never won for playing Parks and Recreation's plucky heroine Leslie Knope; she lost her last four races to Louis-Dreyfus. Laura Dern lost for similarly incredible work in the gone-too-soon Enlightened. Even Lisa Kudrow couldn't win for resurrecting The Comeback's iconic heroine Valerie Cherish. The idea of Louis-Dreyfus winning once again over another crop of worthy contenders — well, we don't need to see that.
Instead, let's see someone like Tracee Ellis Ross win. As Black-ish family matriarch Rainbow, Ross brings a warmth and love to her work, along with spot-on comic timing. She was duly rewarded at the Golden Globes in January, and gave a heartwarming speech dedicated to "the women, women of color and colorful people whose stories, ideas [and] thoughts are not always considered worthy." Not only would an Emmy for her be a reward for great work, it would be a chance for another memorable, special speech.
If not Ross, Emmy voters could recognize Ellie Kemper, who infuses her titular character from The Unbreakable Kimmy Schmidt with delightful persistence. They could seek fit to award a veteran like Lily Tomlin, for playing Grace and Frankie's hippy-dippy art teacher.
Point is, it's time to award another phenomenal actress — not because Louis-Dreyfus is any less deserving, but because further Emmys for the same performance will not make the performance any more special. Selina Meyer is already ensconced in history as one of the greats; nothing's changing that.
If Louis-Dreyfus does win a sixth — which, make no mistake, she would deserve for playing a down-and-out version of Selina — we humbly request she consider removing herself from contention next year. That's not unprecedented: John Larroquette did so after winning four Emmys for outstanding supporting actor in a comedy for NBC's Night Court in the late 1980s, and Katherine Heigl infamously made waves when she refused to submit herself for ABC's Grey's Anatomy in 2008, citing insufficient writing for her character, Dr. Izzie Stevens.
Hopefully, Emmy voters are also ready for a change and decide to give the prize to another one of the nominees. But if they don't, it might be time for Louis-Dreyfus to step away from the spotlight and give another woman the chance to shine.
Correction: July 13, 2017
Mic has ongoing Emmys coverage. Follow our main Emmys hub.