Why it matters that this 'Big Bang Theory' actress spoke candidly about her miscarriage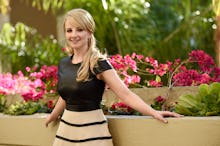 Melissa Rauch, who plays Bernadette Rostenkowski-Walowitz on CBS' Big Bang Theory just announced she's pregnant with her first child with husband Winston Beigel's first baby. But the news is bittersweet: The pregnancy comes on the heels of a devastating miscarriage the actress experienced, which left her emotionally scarred.
"Melissa is expecting her first child," Rauch wrote in third person in a piece for Glamour. "She is extremely overjoyed, but if she's being honest, due to the fact that she had a miscarriage the last time she was pregnant, she's pretty much terrified at the moment that it will happen again."
Rauch went on to describe in detail her struggles with this new pregnancy, given how the last one ended. Her story is heart-wrenching and extremely personal, which is exactly why the actress felt it was important to share.
I'm not saying everyone who publicly announces cheerful news should also report the crummy journey they embarked on before getting to the other side of it. I personally just wanted to express what I've experienced in the hopes that it could — in some small way — help someone going through a similar pain.
Throughout the article, Rauch constantly reminds women who might be experiencing a miscarriage or fertility issues that they are not alone and should never feel like they are to blame for their miscarriages.
Perhaps with increased overall awareness, women dealing with these extremely challenging circumstances won't feel like they're getting sucker punched in the uterus by well-intentioned people.
Miscarriages are still widely considered a taboo subject, which is truly surprising given how regularly they occur. Of all recognized pregnancies, 15% to 25% will end in miscarriages, but as much as 50% of pregnancies end in miscarriage because they occur without the mother even knowing she's pregnant.
So, how can such a common phenomenon still carry such a stigma? For many people, the grief that accompanies it is too complicated and personal to share publicly. Thankfully, there are more celebrities like Rauch who have made a point of sharing their miscarriage stories to help curb the stigma surrounding them.
In 2010, Giuliana Rancic spoke candidly about her miscarriage and decision to undergo in vitro fertilization treatments.
"Hopefully we can help people understand that there's nothing to be ashamed of," Rancic told People. "It's such a taboo subject, but it's a very common problem.
Saved! actress Eva Amurri Martino, who's now a mother of two, shared similar sentiments on her blog, Happily Eva After, in 2015.
"I am sharing in the hopes that we can be a light for people going through similar circumstances, and to remind myself and others that there is no shame in voicing our heartbreaks and allowing others to comfort us," Martino wrote.
Jamie Otis of Married at First Sight and her husband, Doug Hehner, lost their first son after four months of pregnancy. Because they had already announced the baby to family and friends, they found the experience particularly devastating, but still managed to be incredibly open about it.
"Hearing feedback from others who have experienced this incredible loss is therapy," Otis wrote in a blog post. "Talking about my baby who I fell in love with the minute I knew his little heart was beating inside me is therapy."
The more celebrities who tell their miscarriage stories, the more women everywhere may feel compelled to open up about their own experiences. If miscarriages are no longer kept hidden, as if they were something to be ashamed of, there would no longer be such a stigma surrounding them — and, perhaps, more women would get the support they need.
The end of Rauch's piece sums it up succinctly: "You are not alone. And, it is perfectly OK to not be OK right now."
Mic has ongoing celebrities coverage. Please follow our main celebrities hub here.