'What Remains of Edith Finch' Xbox One Release Date: One of the best games of 2017 is coming to XB1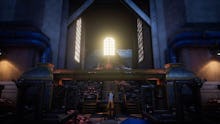 All the way back in April, What Remains of Edith Finch graced PlayStation 4 and PC. The first-person short story collection about the extensive misfortune of a pacific northwest family was warmly received, but Xbox One owners were left behind.
Good news: That's about to change very soon.
What Remains of Edith Finch Xbox One release date announced
According to a press release from publisher Annapurna Interactive, What Remains of Edith Finch will launch on Xbox One on July 19. That's just a week from the time of writing, which is exciting for Xbox owners who missed out on Edith Finch earlier this year.
It's one of Mic's favorite games of 2017 so far, and in my review, I praised its honest approach to death and wide variety of visual and gameplay styles. If you haven't seen or played it yet, it's basically a game where you see the final moments of about a dozen people's lives, each with a distinctive art style and mechanical gimmick.
Be prepared for a tiny bit of emotional devastation if you're playing it for the first time next week. Lewis Finch's story, in particular, is a hell of a thing. That said, if you enjoy a good story and want a game you can finish in an evening, What Remains of Edith Finch will do the trick.
More gaming news and updates
Check out the latest from Mic, like this essay about the sinister, subtle evils lurking in rural America that Far Cry 5 shouldn't ignore. Also, be sure to read our review of Tekken 7, an article about D.Va's influence on one Overwatch player's ideas about femininity and an analysis of gaming's racist habit of darkening villains' skin tones.