Donald Trump defends Donald Trump Jr.: "My son is a high-quality person"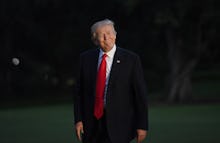 President Donald Trump broke his silence about the meeting his eldest son, Donald Trump Jr., had with a Russian government lawyer who promised damaging information on Hillary Clinton amid the 2016 presidential election.
"My son is a high-quality person and I applaud his transparency," Trump said in a statement, which was read during an off-camera briefing held by deputy White House press secretary Sarah Huckabee Sanders.
Trump Jr. released emails Tuesday that showed he knew he was meeting with a lawyer tied to the Russian government, and that the damaging information he was promised on Clinton was part of the Russian government's quest to bolster his father's campaign.
Trump Jr. said he released the emails in an effort to be "totally transparent."
However, the New York Times reportedly had the emails already and was planning on releasing them before Trump Jr. beat them to the punch.
"@DonaldJTrumpJr posted these emails after being informed that the New York Times was doing a story on them," Clifford Levy, Times deputy managing editor, tweeted Tuesday.