'Splatoon 2' Switch Gameplay Hands-on Preview: First impressions of Nintendo's paint-filled shooter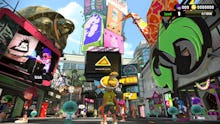 If the Splatoon 2 release date of July 21 is just too far away, we're here to bring you a brief reprieve. Nintendo recently sent over the latest game in the Splatoon series for Nintendo Switch so we went hands-on. While the shooter is multiplayer-focused, Nintendo's brought us single player options to the paint-filled shooter once again.
So how does Splatoon 2's single-player mode actually play? Let's find out.
Splatoon 2 first impressions: Don't cry over spilled ink
Splatoon 2 offers a bevy of multiplayer modes, but we'll only get into the single player experience here. Talking to Marie — the character with the umbrella — brings you to the solo challenges where you're tasked with defending yourself and capturing zapfish. We're still early on in Marie's trials, but we can already see how the skills required in collecting zapfish carrying over to multiplayer. Only a Turf War can train you for a Turf War, but this isn't the worst substitute for those just starting out.
Collecting zapfish in single player is hard, but not difficult. The game also sets a good pace between regular levels and boss levels. Without giving up spoilers, we can say the bosses were fun to fight.
What's it like to play Splatoon on the Switch?
Sorry, Wii U GamePad, can't say we miss you.
Playing Splatoon 2 on the Switch brings offers one giant advantage over the Wii U: portability. This was evident back when we played the initial demo in January, and should be clear to anyone who's familiar with what the Switch offers.
But it's not all good news. While you can play this at a park or on your lunch break, don't expect to do well in a match in a moving car or train. Motion control aiming gets wonky if you're constantly bumping and shaking.
The Joy-Con's HD rumble is also used in Splatoon 2, but not in any way that will have you writing home. Impressively, you are able to change the motion control sensitivity between handheld and TV/tabletop modes. You can even turn off motion control for one play mode and leave it on for the other.
Splatoon 2's multiplayer isn't missed when you can sling slime solo
With Super Mario Odyssey coming in October, Splatoon 2 is Nintendo's big release for the summer, and rightfully so. The game feels like a cross between a water gun fight and a Nickelodeon game show from the '90s. Splatoon's always brought warm vibes, the difference now is you can bring the sludge-filled shooter with you.
We still have much to do before we complete Splatoon 2, especially since Nintendo hasn't flipped the switch for multiplayer yet. If you're itching to play, your soonest option is the free Splatfest demo at 6 p.m. Eastern on July 16. Wear a smock.
Check out more gaming news and coverage
Looking for more Nintendo Switch news? Check out how blind gamers are using the Nintendo Switch and why you can't get your Mii to look quite like you. Nintendo's left Joy-Con issue turns out to be a hardware problem — here's how to solve it. Find out how to buy a console amidst the recent restock. Learn why the Switch cartridges taste so bad. Check out our comparison photos sizing up the Switch to the Wii U GamePad (part one and part two), or find out how to make use of ethernet without the dock and the best way to get alerts when new stock arrives.