An Iranian cancer researcher headed to the US to work at a hospital was detained at Logan Airport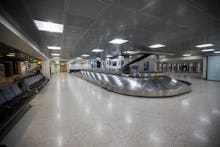 Seyed Mohsen Dehnavi, an Iranian cancer researcher, was ready to begin a stint as a visiting scholar at the Boston Children's Hospital — but when he landed in the U.S., he was detained at Boston's Logan International Airport. He is reportedly being sent back to Iran later on Tuesday.
In a statement emailed to Mic on Tuesday, the hospital said that Dehnavi is "a visiting research scholar on a J-1 visa coming to Boston Children's with his wife and three children. He and his family are being detained at Logan are supposed to be sent back to Iran later today."
The hospital said it has "limited information" about the details of Dehnavi's detention, but the news comes just weeks after the U.S. Supreme Court announced it would allow a limited version of President Donald Trump's executive order banning citizens of six Muslim-majority nations from entering the country to take effect.
Following the court's statement that the travel ban — which applies to nationals of Libya, Syria, Iran, Sudan, Yemen and Somalia — could not be applied to people with a "bona fide relationship with a person or entity in the United States," the Trump administration issued new guidelines clarifying visa requirements for applicants from the targeted countries.
Boston Children's Hospital said in its statement that it "hopes that this situation will be quickly resolved and Dr. Dehnavi and his family will be released and allowed to enter the U.S," and that the hospital is "committed to doing its utmost to support Dr. Dehnavi and his family."
A spokesperson for the U.S. Customs and Border Protection told the Boston Globe that, while the agency does not discuss individual inspections, Dehnavi's detention isn't related to the executive order.
"All travelers arriving to the United States must possess valid travel documents," the agency told the Globe. "However, it is important to note that issuance of a visa or a visa waiver does not guarantee entry to the United States."
On Tuesday, the Massachusetts chapter of the American Civil Liberties Union tweeted out that it was "hearing reports from Logan Airport about possible violations of the Supreme Court's order on the Muslim ban."
The Globe reported on Tuesday that Dehnavi and his family "will be sent back on the next scheduled flight."