Watchdogs say Trump's new voter fraud panel pick rounds out "four horsemen" of suppression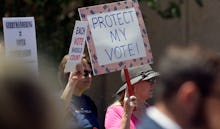 Watchdogs suing the federal government over President Donald Trump's self-described "voter fraud panel" say he went over the edge this week with a new addition to the group.
The Lawyers' Committee for Civil Rights Under Law and the American Civil Liberties Union on Tuesday added Trump's selection of J. Christian Adams, an attorney and commentator with a reputation for aggressively chasing fraud cases, to their many grievances with the panel.
The panel, officially known as the Presidential Commission on Election Integrity, has roiled civil rights advocates, privacy groups and public officials with a request for data on every registered voter in all 50 states, including names, party affiliation and even partial Social Security numbers.
Lawyers' Committee President Kristen Clarke said on an afternoon conference call that with the addition of Adams, "The commission is spearheaded by the 'four horsemen' of voter suppression: Kris Kobach, Hans von Spakovsky, Ken Blackwell and J. Christian Adams."
Kobach, the Kansas secretary of state and a 2018 candidate for governor, is vice chairman of the Trump panel. Blackwell is a former Ohio secretary of state and a senior fellow at the conservative Family Research Council and von Spakovsky is a former Federal Election Commission member now working with the right-leaning Heritage Foundation.
Adams, named to the panel on Monday, is president and general counsel of the Public Interest Legal Foundation, also called PILF.
Before being chosen for the panel, he predicted that state efforts to withhold public voter information from the federal commission would fail.
Per his online biography, Adams served in the Justice Department's Voting Section from 2005 to 2010 and is "the author of the New York Times bestseller Injustice: Exposing the Racial Agenda of the Obama Justice Department, which examines the Department's election and voting rights record."
The Adams bio also notes: "He successfully litigated the landmark case of United States v. Ike Brown in the Southern District of Mississippi, the first case brought under the Voting Rights Act on behalf of a discriminated-against white minority in Noxubee County."
Adams said in a brief Tuesday email exchange that he "could care less" if people on a conference call tore into him: "Actually, I usually enjoy when that happens, depending on who says it."
He's also tangled with critics on Twitter, shrugging them off as "voter fraud deniers" (a phrase he's used before), among other things:
Adams defended his track record, challenging naysayers to prove anyone entitled to vote had been wrongly deprived of the right to do so. He also circulated a piece from the conservative Daily Signal which argued that those who say there is simply no widespread voter fraud in the U.S. simply fear being proven wrong.
The offices of Blackwell and Von Spakovsky have not responded to requests for comment.
Tuesday evening, through the office of Vice President Mike Pence, the official chairman of the panel, Kobach issued a brief response to the lawsuits: "As the Vice Chairman of this bipartisan commission, I am looking forward to our first meeting on July 19 to discuss ways to enhance the integrity of our election system. I have no comment at this time on this filing."
A spokeswoman for Kobach has not responded directly to Mic requests for comment since last week, when she said Kobach disputed a complaint alleging he has used his role on the voter panel to advance his run for governor.
Asked about the ACLU and Lawyers' Committee critiques, a spokesman for Adams, Logan Churchwell, said the "objections come from people that hold on to the perverse notion that voting laws are not supposed to be fully enforced for the benefit of all."
Churchwell, communications director for PILF, emailed that Adams "can't comment on every telephonic grief session he inspires — especially when the call is filled with activists whose hostility to empirical research would even make Flat Earthers blush."
He added of Adams, "Aside from 'voter suppression' being an imaginary menace, the 'horseman' bit is quite off base. Sailing is more his thing."
Churchwell also called some of the resistance hypocritical: He pointed out that some of the states refusing to comply with the request, such as Virginia, have already worked with the Electronic Registration Information Center, or ERIC, which pools data to update and clean voter rolls.
Amid the pending suits from the ACLU and Lawyers' Committee, which question the commission on multiple fronts, a separate challenge to the panel from the Electronic Privacy Information Center continues moving through the courts.
The EPIC case has already led the panel to ask states to hold off on sending voter data for now.
On Tuesday, EPIC reported on its website that a judge had requested more information. The latest request could push court activity at least into Monday — two days before the panel's first scheduled in-person meeting in Washington.
Broadly, Dale Ho, director of the ACLU Voting Rights Project, argued on the conference call that the presidential commission "was designed to sell a lie."
"Donald Trump lost the popular vote by almost 3 million ballots, and this commission was designed to sell the lie that he didn't," Ho said. "The second thing that this commission was designed to do was to justify voter suppression measures with exaggerated and trumped-up allegations of non-citizen and double voting."
Some state officials have outright refused to cooperate with the panel, while others have said they'd provide some data, but not all.
Clarke said the Committee currently doesn't support states providing the panel with even information that's already available to political parties or the press.
"We don't understand the agenda of this commission or how it will operate or what it will do with the data or where that data will be stored," she said.
"Until those critically important questions are answered, we discourage state officials from turning over sensitive information on more than 200 million registered voters across our country to individuals [on the panel], many of whom have a long track record of promoting voter suppression."