'Overwatch' Update 2.15: Full patch notes for the newest version on PS4 and Xbox One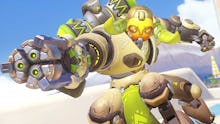 A new version of Overwatch, 2.15, just hit PS4 and Xbox One. Don't get your hopes up, though: Doomfist is still stuck on the public test realm for the foreseeable future. He likely won't go live for another couple of weeks.
Instead, this patch simply fixes a few pesky bugs, most of which have already been snuffed out on the PC version. The full patch notes are embedded below.
Overwatch update 2.15 patch notes
Bug Fixes
More Overwatch news and updates
For more on Overwatch, check out the rest of what Mic has to offer. Here is an intro to the cute, new "Wholesome Overwatch" subreddit, a look at some gorgeous Overwatch-themed PS4 and Xbox One controllers, a cool Easter Egg in the new Horizon Lunar Colony map and a criticism of Blizzard's failures in its design of Symmetra.