The White House seems to have abandoned Donald Trump Jr. for now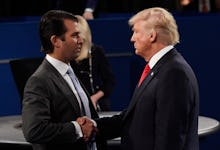 The White House has more or less abandoned the president's eldest son, Donald Trump Jr., in the wake of the revelation he met with Kremlin-linked lawyer Natalia Veselnitskaya in June 2016 to obtain supposed Russian intelligence information on Democratic nominee Hillary Clinton.
As the Daily Beast reported, even before the latest revelation Trump Jr. had earned himself the nickname of "Fredo" among White House aides, a reference to the traitorous, weak-willed son of Don Corleone in the Godfather franchise. On Tuesday, one White House source told the Beast, "This is sum of all fears stuff. It's what we've all been dreading." Mark Corallo, a spokesman for the president's personal legal team, would only say "the president was not aware of and did not attend the meeting."
During a press conference Tuesday, deputy press secretary Sarah Huckabee Sanders referred all questions about Trump Jr. to his outside counsel. She later said the president was "frustrated" by the persistence of allegations his team colluded with Russian intelligence operatives to win the election.
Trump himself has remained mum, except to issue a statement through Sanders praising his son's "transparency" on the matter and comment he is a "high quality person" — hardly the most ringing endorsement.
Many of Trump's surrogates have been quiet on the issue as well; embattled terrorism adviser Sebastian Gorka, best known for his association with far-right Hungarian groups, took to CNN merely to insist what Trump Jr. did was not illegal and a routine part of political campaigning.
Even normally friendly media venues like Fox News and the Drudge Report seemed to have stopped playing defense for the administration on the issue, though progressive media watchdog Media Matters noted Fox edited out the mention of the Russian government in one of its initial reports. According to CNN's Oliver Darcy, the editor-in-chief of pro-Trump far-right site Breitbart responded to the news by asking staff, "So like, this is straight up collusion. Right?"
One person still in Trump Jr.'s corner, apparently, is right-wing Fox personality Sean Hannity, who will be interviewing him Tuesday night.