Report: Special counsel Robert Mueller now looking into Donald Trump Jr.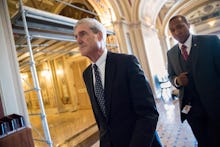 Robert Mueller, the Department of Justice special counsel in charge of that agency's investigation into President Donald Trump and his team's rumored links to Russian operatives who interfered in Trump's favor in the 2016 presidential election, is now looking into the president's eldest son.
According to CNN, three U.S. officials say Mueller and the FBI were not fully aware of a June 2016 meeting between Donald Trump Jr., Trump's son-in-law Jared Kushner and then-campaign manager Paul Manafort and a Kremlin-linked lawyer named Natalia Veselnitskaya. According to the New York Times, Trump Jr. set up the meeting with the explicitly stated intent of receiving what family friend Rob Goldstone wrote in an email was "obviously very high level and sensitive information ... part of Russia and its government's support for Mr. Trump."
One of the U.S. officials said that now that the information is out in the open, it will become part of Mueller's probe.
Samuel Buell, a former federal prosecutor, told Politico the email was "very significant legally as it at least opens up the question of illegal campaign benefits from Russian sources, and the email is quite strong evidence of DJT Jr's intent toward Russia."
"They've been handed a smoking gun," another attorney representing one of the clients impacted by the probe told Politico. "What none of us know is what else he's got. He may have had all these emails already. He may have reams of paper. There's no way to know what's under the water line in terms of this investigation ... I think [Trump Jr.] walked himself into a potential criminal offense here."