Return to 'Oz': 20 years ago, HBO released a seedy prison drama that changed the rules of TV forever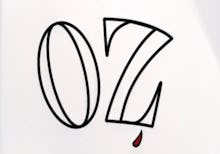 Twenty years ago today, HBO went to prison and changed the course of television history. Oz, the network's first foray into hourlong scripted drama, was the opening shot in a cultural revolution. Created by Tom Fontana, whose Homicide: Life on the Street was one of the pre-"prestige TV" era's finest shows, and set in New York's fictional Oswald State Penitentiary, the series utilized its "anything goes" cable setting to push the boundaries of sex, violence, subject matter and sheer scope beyond anything that had come before. Sex and the City would follow in 1998, and the almighty Sopranos arrived in 1999, but Oz is where it all began.
If you imagine a world where The Sopranos never happened and Oz became not just the prototype for ambitious cable dramas but also the template itself, the TV landscape would look different indeed. While not a stupid show by any means, Oz is far less cerebral in its pacing and approach than the shows for which it served as proof of concept.
Its six-season plot involves dozens of characters in multiple warring factions whose conflicts rocket along at a breakneck pace. It tackles the big issues with the bluntness of an after-school special rather than the therapist's-couch thoughtfulness of The Sopranos or Mad Men — or, for that matter, the socio-political agitprop of The Wire (created by David Simon, whose reportage Fontana adapted into Homicide) or Orange Is the New Black (Jenji Kohan's even more popular and acclaimed prison drama), the major series with which Oz arguably has the most in common. Twenty years later, Oz is a glimpse at a TV world that might have been.
To the extent that the show ever transcends its own lurid nature, it does so through the strength — and vulnerability — of its cast. The show's credits read like a who's who of small-screen stars, and in the case of Whiplash and Spider-Man's J.K. Simmons, even big-screen ones. Oz also features Simmons' fellow Law & Order Extended Universe vets Christopher Meloni, B.D. Wong and Dean Winters, each of whom have had extensive success outside Dick Wolf's cops 'n' lawyers franchise; Lost's Adewale Akinnuoye-Agbaje and Harold Perrineau, the latter who, when the show debuted, was already hot from his turn as Mercutio in Baz Luhrmann's MTV-style Romeo + Juliet; and Kirk Acevedo, subsequently seen on Band of Brothers and Fringe.
Other actors on the payroll: omnipresent supporting players Lee Tergesen and Želko Ivanek, each of whom has been on more series than you can count but who had memorable roles as villains on The Americans and True Blood, respectively; Eamonn Walker, an anchor in Dick Wolf's post-L&O enterprise, Chicago Fire; Terry Kinney, who in addition to work on shows like Billions is the co-founder of Chicago's influential Steppenwolf Theatre Company; the already legendary Rita Moreno, one of the first-ever EGOT winners (Emmy, Grammy, Oscar and Tony); and of course Edie Falco, who departed her gig as a prison guard on the show early in order to take on her role as Carmela on Oz's HBO neighbor The Sopranos.
IMDb entries aside, it's hard to describe just how endearing these actors are in their roles, which in less sympathetic hands could have sounded like characters from some cheapo "Rated M for Mature" Grand Theft Auto knockoff. An example: Perrineau's game, Shakespearean energy sells the fourth-wall-breaking spoken-word performances of his character Augustus Hill, who serves as a narrator-slash-greek chorus for the plot.
Akinuoye-Agbaje uses his size to convey his ganglord Adebisi's menace as well as a sort of too-big-for-this-world weakness, the latter most memorably during an addiction storyline that sees him helplessly crying out the prison's slang term for heroin: "Gimme some tits!" This is the role that made fans freak out when he showed up as Mr. Eko on Lost, and freak out again when he was abruptly killed off because the actor got sick of living in Hawaii. Elsewhere, Winters's gravel-voiced, reptilian charisma as double-dealing Irishman Ryan O'Reilly helps make him Em City's greatest schemer; it's hard not to see shades of the role in the similarly shrewd and steely-eyed Littlefinger on Game of Thrones.
And reams have rightfully been written about the folie à trois at the series' heart: the complex and disturbing relationship between Simmons' Aryan archvillain Vern Schillinger; Tergesen's Tobias Beecher, Schillinger's victim-turned-nemesis; and Meloni's Chris Keller, hired by Schillinger to seduce and destroy Beecher before the pair actually fall in a sort of mad love. The feud between Schillinger and Beecher begins as a harrowing depiction of prison rape, and expands from there into a story of arch enemies every bit as intertwined as comic-book pairings like Batman and the Joker or Professor X and Magneto. Beecher and Keller, meanwhile, were easily the most tenderly and graphically depicted same-sex couple on television at the time and for a long time afterward, leg breakings and attempted murder aside. Their bizarre love-hate triangle could sustain an entire series on its own.
But on Oz, it doesn't have to. The show's addictive watchability derives from not just the quality of its cast and the engaging energy they bring to the characters, but also from the sheer number of characters in the first place. No other show this side of Game of Thrones — made long after Oz paved the way for narratives of its scope and intricacy — arranges its players in so many recognizable rival factions (largely arrayed along racial and religious lines), nor displays as deft an ability to make its audience shift their allegiances from one side to another.
In addition to Schillinger's Aryans and Adebisi's "Homeboys," the Italian mob, Latin gangs and a contingent of black Muslims led by Eamonn Walker's powerful Kareem Saïd duel with good and bad cops alike for control of the prison. Free agents like Winter's O'Reilly and George Morfogen's chilly, aging killer Bob Rebadow, both of whom survive the madness to the very end, weave in and out of the story as well; O'Reilly in particular plays a catalyzing role in many of the conflicts between the competing gangs. Imagine a Sopranos in which Tony and each of his New York and New Jersey rivals get equal time, or a funhouse version of The Wire in which power plays between the cops, the multiple criminal organizations and the unaffiliated civilians are made in every single episode, and you're almost there.
The constant warring and reversals of fortune relentlessly drive the story — and the viewer — from one episode to the next, but after a point they also strain credulity. With its track record of murder, mayhem and full-scale rioting, the experimental "Emerald City" open-housing unit where Oz's action takes place would have been shut down almost immediately.
For it to continue through the show's 2003 series finale, the audience had to suspend disbelief and accept artificial resets to the status quo that feel more of a piece with the standard-format dramas that preceded the series rather than the prestige shows that followed it, in which not just the characters but the basic nature of the story itself are often in danger. Oz's tendency to sacrifice realism in order to keep the plot pot boiling gives it more in common with the subsequent New Golden Age's genre-fiction staples, like Lost, True Blood and Battlestar Galactica, which navigate their own outlandishness with varying degrees of seriousness and success.
Meanwhile, Oz's regular jolts of nudity, controversy and gore became a staple of pay-cable fare. But the writers were so busy blazing this particular trail that they had little time to artfully contextualize (or disguise) the prurient aspects of the work. The result is a drama you're likely to remember as much for the inventive ways people get killed or maimed on a weekly basis (ground glass in the food! Severed penises! Shitting on your incapacitated enemy in the weight room!) as for anything else. Revisiting the show now feels more like tuning in to one of the New Golden Age's seamier entries — the aforementioned True Blood, say, or the cornier seasons of Sons of Anarchy, or the stereotyped version of Boardwalk Empire or Game of Thrones that those shows' detractors describe — than the holy HBO trinity of The Sopranos, The Wire and Deadwood, or AMC's canonical one-two punch of Mad Men and Breaking Bad.
Oz differs from its successors in another crucial respect. Like Sesame Street with shanks, each episode of Oz is brought to you not by a letter or a number, but by one of Life's Big Questions, addressed with unabashed earnestness. Augustus's monologues introduce any given installment's overarching theme: drugs, sex, religion, family, death and so on. The post-Oz prestige landscape lives and dies by serialization, eschewing this kind of individualizing device. Meanwhile, the critical climate abhors any thematic development that can be described with the dreaded phrase "too on the nose" — Oz shows off its allegorical preoccupations the way a clown wears a big red rubber schnoz.
Add it all up, though, and you get a series stuffed with more hooks than a bait-and-tackle shop. The combination of GoT-style factional rivalries, the fast pace and the enormous and engaging cast means there's always someone to root for, or against, not just in every season or episode but in practically every scene. The high-octane, high body-count content gives the show the thrill factor of an action movie or horror film, leavened by the makes-ya-think monologues from Augustus and the episode-by-episode themes they describe.
It's a model no other show has attempted to mimic. But with more dramas on the air than ever before, networks and showrunners have spent the past few years experimenting with form and tone like never before. Seasonal anthologies like Fargo and the shows of Ryan Murphy have become a mainstay; episodic anthologies like Black Mirror have marked the comeback of a very old-school format; enormous casts inhabit GoT, OITNB and other zeitgeisty programs; visual and narrative style have been twisted and tested to the point where, in heady high-art shows The Young Pope and The Leftovers, as well as baroque genre fare like Legion and American Gods, "weirdness" was 2017's defining trend in TV even before the masterful return of Twin Peaks.
In light of this creative free-for-all, the evolutionary dead ends of Oz are ripe for revisiting and reviving. Creative secrets are sealed inside those prison doors, just waiting to be set free.
Mic has ongoing TV coverage. Follow our main TV hub here.