'Hot Mic' podcast: Donald Trump Jr.'s emails, LA 2024 Olympics, Mo Brooks' Bible filibuster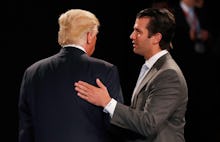 Listen and subscribe to the Hot Mic podcast from your mobile device:
Here are the important stories to know for Wednesday, July 12:
1. Donald Trump Jr. released emails about his meeting with a Kremlin-connected lawyer, who claimed to have dirt on Hillary Clinton.
2. President Trump's travel ban could be a big roadblock for LA's bid to host the Olympic Games.
3. Mo Brooks says he'll read the King James Bible on the Senate floor until Trump's wall is funded.
Direct from Mic's newsroom, Hot Mic keeps listeners informed with a daily run-down of top stories, breaking news and analysis from our news team.