Donald Trump Jr. admits he has "probably" met with other Russians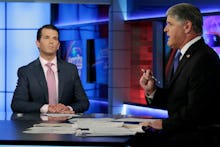 In an interview Tuesday night with Fox News host Sean Hannity, Donald Trump Jr. explained, in-depth, his version of the circumstances surrounding his June 2016 meeting with a Kremlin-linked lawyer who promised Russian government intel on Hillary Clinton.
Trump Jr., the eldest son of President Donald Trump, freely admitted he had met with Natalia Veselnitskaya, who promised "obviously very high level and sensitive information ... part of Russia and its government's support for Mr. Trump." But he also added the meeting — which Politico reported legal experts called a "smoking gun" of intent to collude with Russia, and has gotten the attention of federal investigators — may not be the only time he met with a Russian.
"I've probably met with other people from Russia but certainly not in the context of actual formalized meetings or anything," Trump Jr. told Hannity.
But Trump Jr. has given the same answer before, and it was incorrect then.
As MSNBC's Chris Hayes noted on Twitter, when the New York Times interviewed Trump Jr. in March, he said, "Did I meet with people that were Russian? I'm sure, I'm sure I did. But none that were set up. None that I can think of at the moment. And certainly none that I was representing the campaign in any way, shape or form."
Asked whether he had ever discussed any policy matters related to Russia, he added, "100% no."
Hannity, a major Trump booster, tried his best during the rest of the interview to steer the discussion toward supposed crimes committed by Clinton — though he judiciously avoided the most damning part of the email exchange, in which Trump Jr. was informed the supposed intelligence was a gift from "Russia and its government."