China establishes its first overseas military base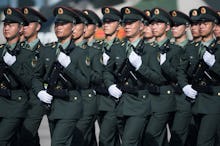 Two Chinese Navy warships left Zhanjiang, China, on Tuesday, en route to Djibouti, where the country is formally establishing its first overseas military base, CNN reported on Wednesday.
An editorial published Wednesday in Chinese state-run media said that China is establishing "the People's Liberation Army's first overseas base," saying, "It's not a commercial resupply point ... This base can support Chinese Navy to go farther, so it means a lot," according to CNN.
Chinese state media reportedly said that the base in Djibouti — a country on the Horn of Africa, strategically positioned near a strait that connects the Mediterranean to the Gulf of Aden and the Indian Ocean — will help to support Chinese Navy ships in the region.
Speaking at a press briefing on Wednesday, Chinese Foreign Ministry spokesman Geng Shuang said that "The completion and operation of the base will help China better fulfill its international obligations in conducting escorting missions and humanitarian assistance ... It will also help promote economic and social development in Djibouti," CNN reported.
The United States also has a permanent military base in Djibouti, Camp Lemonnier, a 100-acre base that houses some 4,000 U.S. troops, CNN reported. In addition, the U.S. operates an airfield in Djibouti from which the Pentagon launches drone strikes in the region.