'Overwatch' League Cities and Teams: Patriots CEO, founder of NRG Esports among the first 7 teams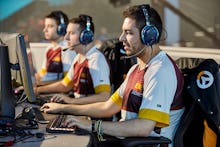 Activision Blizzard just announced the sale of seven team slots in its official Overwatch League, which, up until now, had remained mostly shrouded in mystery since its initial announcement at BlizzCon 2016.
The seven cities that will host Overwatch teams — so far — are Boston, New York, Los Angeles, Miami-Orlando, San Francisco, Shanghai and Seoul.
Despite skepticism from the Overwatch community that the launch of the Overwatch League wasn't going as smoothly as planned, Blizzard said the League will still launch later in 2017, according to the press release emailed to Mic.
Here's the full list of teams, their owners and the cities to which they're tied, straight from the official press release:
• Robert Kraft, Chairman and CEO of the Kraft Group and the New England Patriots (Boston)
It's not clear how many more owners will decide to purchase Overwatch League slots, but Blizzard said it's in "active conversations" with several other potentially interested parties, according to Dot Esports.
More Overwatch news and updates
For more on Overwatch, check out the rest of what Mic has to offer. Here is an intro to the cute, new "Wholesome Overwatch" subreddit, a look at some gorgeous Overwatch-themed PS4 and Xbox One controllers, a cool Easter Egg in the new Horizon Lunar Colony map and a criticism of Blizzard's failures in its design of Symmetra.