Andy Serkis reading Donald Trump's tweets as Gollum is hauntingly perfect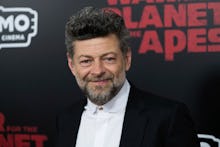 Here is something that shouldn't be news to anyone: Donald Trump makes outrageous statements on Twitter. Why the president of the United States continues to press "tweet" is not entirely clear, but his posts are often so ridiculous, they are best read aloud in a funny voice. Sometimes, it's the only way they make sense. Mark Hamill has even created his own character, the Trumpster, to read Trump's tweets in his Joker voice when appropriate. But now Hamill has some competition in Andy Serkis.
While on the Late Show with Stephen Colbert promoting his new movie, War for the Planet of the Apes, Serkis was asked to read a few of Donald Trump's tweets in Gollum's voice. Jumping up on his chair, Serkis' vocals quickly changed to those of the shriveled, screeching creature that fans know so well from Peter Jackson's The Lord of the Rings and The Hobbit film series.
The result was simply haunting. Just listen to Serkis, and you may even believe it is original dialogue from one of Jackson's films. The actor only broke from the script to ask the question we're all still pondering: "Wait, what's covfefe, precious?" Check out his performance below.
Mic has ongoing coverage of Donald Trump. Please follow our main Donald Trump hub here.