Malala is spending her 20th birthday fighting for girls' education in Iraq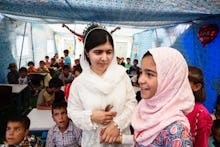 It's been a big week for Malala Yousafzai.
On Friday, the women's rights advocate announced from her newly launched Twitter account that she'd graduated high school.
"Graduating from secondary school ... is bittersweet for me," she wrote. "I'm excited about my future, but I know that millions of girls around the world are out of school and may never get the opportunity to complete their education."
Yousafzai, not one to waste any opportunity, is already at work trying to help other girls have the same chance. On Tuesday, she celebrated her 20th birthday a day early in Iraq by way of her "Girl Power Trip," an initiative that involves Yousafzai traveling around the world to talk to girls who have struggled trying to access education.
According to a press release from the Malala Fund, Yousafzai started the day at a local amusement park with friends before meeting with Iraqi, Kurdish, Christian, Yazidi and Syrian girls at an internally displaced person camp for Mosul evacuees.
There, she spoke to girls who've had their educations disrupted by the region's conflicts. One girl, Nayir, who's 13, had missed three years of school by the time her family fled the city in April, following the capture of her father by ISIS.
Stories like these are everywhere: About 355,000 internally displaced children in Iraq don't attend school, and the majority of them are girls. Nayir's though, has a happy ending. She has since returned to school and is determined to complete her education. "No matter what, nothing will keep me from finishing my studies," she told Yousafzai. "When I returned to the classroom, all my hopes came back."
This is the fourth consecutive year Yousafzai has spent her birthday — which was officially declared "Malala Day" by the United Nations in 2013 — doubling down on her activist efforts.
In July 2016, Yousafzai spent the day visiting the world's largest refugee camp, located in Dadaab, Kenya. While she was there, Yousafzai met with a 19-year-old Somali teenager named Rahma Hussein Noor, who wasn't able to continue her schooling after returning home from the camp. When her father arranged a marriage for her with a 50-year-old man, Noor took a bus to Dadaab by herself to finish her education.
Yousafzai will continue to talk to girls like Noor on her Girl Power Trip, which continues throughout the summer; her next stops will be in Latin American and African countries.
"For me, the most important thing is talking to other people, learning from them and speaking out for what you believe in," Yousafzai said.
Correction: July 13, 2017