Plus-size, disabled model Katie Knowles just landed a fashion campaign with Yours Clothing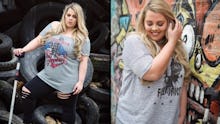 The plus-size retailer Yours Clothing, which specializes in clothing up to a size 36, is pushing for a more inclusive, progressive plus-size industry, one campaign at a time. In April, for instance, it cast Shay Neary, a plus-size transgender model, giving her her first British campaign. Now, Yours has reached out to Katie Knowles, a disabled, plus-size model, to collaborate on a collection and offer its disabled customers some style advice.
According to the brand, Yours thought to reach out to Knowles after hearing from multiple customers that they wanted to get tips on how to dress when you have a disability.
"Fashion has many trends, but we often forget the individual behind the trend," Rosie Middleton, Yours Clothing's communications executive, said in an interview. "A multitude of our customers are immobile or partially disabled, so as a brand we would do anything we can do to connect with or to support them."
So Knowles, who has spinal stenosis, degenerative disc disease, hypermobility, failed spinal fusion and walks with crutches, felt like a perfect fit for a campaign like this one.
"Last year Katie applied to our blogger program and we didn't immediately realize she had a disability," Middleton said. "Katie very much sees herself as a plus-size model and that is what we liked about her. Her disability isn't the forefront of who she is and that is why we approached her to collaborate on this campaign."
In her own guide to dressing, Knowles touches on style tips involving how to dress when you have a prosthetic, or when use a wheelchair or crutches, as she does.
"When Yours approached me with this idea I cried when I got off the phone," Knowles said in an interview. "No brand has done something like this before that I've seen. [No brand has] actually taken the time to speak to a disabled model and ask what clothes are good for different disabilities. I did my research via my personal experiences [and talks with] my friends with different disabilities in order to give the best advice I could. Something like this campaign is so important. If you thought it was bad finding clothes as a plus-size woman, imagine being a plus-size woman with disabilities that might restrict what you can wear or physically manage to get on."
As for Knowles' real advice for plus-size people dressing everyday with a disability, she said that it's all about finding pieces that work for you.
"My advice to any plus-size woman who has disability of some form when it comes to dressing is know your shape," Knowles said. "Honestly it's trial and error and I honestly want to say, wear whatever the hell you like, it's your body and Yours has options for every body."
July 13, 2017, 8:28 a.m.: This post has been updated.