2 iPhone 8 features may not be ready until after release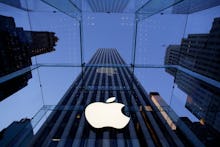 On again off again rumors surrounding the delay in the release of the iPhone 8 — Apple's commemorative device that will mark the 10-year anniversary of its smartphone — have been circulating for a few months. Now, a new report says the device will debut as planned, but two key features may only be enabled only after the smartphone is released.
According to a report from Fast Company, wireless charging and 3-D face scanning might not be available until after the release — the iPhone 8 is expected to launch in September alongside the iPhone 7S and 7S Plus.
Rumors of facial recognition date back to March and further reinforced earlier this month when KGI analyst Ming-Chi Kuo predicted the iPhone 8 would have "3-D sensing for facial recognition." On July 3, Bloomberg reported, citing unnamed sources, of Apple's experimentation with facial recognition. This feature, powered by a front-facing 3D sensor, will allow users to "log in, authenticate payments and launch secure apps by scanning their face." The technology can reportedly scan a face and unlock an iPhone in a few hundred milliseconds.
As for wireless charging, that's also a long-lasting rumor for the iPhone 8. Speculation started at the Consumer Electronics Show in January and the rumor has been gaining momentum and losing steam with every news cycle. Apple fueled rumors surrounding wireless charging when it joined the industry trade organization Wireless Power Consortium in February. If true, this feature means users can charge their smartphone without having to actually plug it into a socket.
An unnamed source told Fast Company that software problems are to blame for both the facial recognition and the wireless charging holdup. If Apple can't sort things out, the company is planning to ship out devices with "inoperable" hardware that will be turned on later. That said, Fast Company's source believes software issues surrounding the 3D sensor will be resolved.
Earlier this year, delays were reported surrounding the TouchID sensor. Apple is reportedly trying to integrate the sensor under the OLED display of the device. According to Fast Company, the sensor will likely be embedded below the display.