Decriminalizing possession of small amounts of cocaine and heroin? Oregon may try it.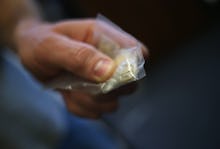 Oregon may be changing its policies on drugs, and supporters hope it marks a step toward ending practices that disproportionately affect people of color in the state.
State lawmakers on Thursday approved a bill that would decriminalize possession of small amounts of drugs like cocaine and heroin, the Washington Post reported on Tuesday. The move would reclassify possession of the drugs as a misdemeanor rather than a felony.
In an emailed statement to Mic, Oregon Gov. Kate Brown called it "an important step towards creating a more equitable justice system to better serve all Oregonians."
Proponents of the bill hope it will help people with addiction issues get medical help and address drug policies that, research has shown, inordinately target people of color.
A 2015 study by the Oregon Criminal Justice Commission found that African-Americans in the state were convicted on felony drug possession charges at more than twice the rate as whites — despite national data showing similar rates of drug use across all races, the Associated Press reported at the time.
"Felony sentences for small, user quantity amounts often carry heavy consequences including barriers to housing and employment which have a disparate impact on minority communities," Oregon House Speaker Tina Kotek said, according to the Statesman Journal.
The bill passed the Oregon house and senate. Now it heads to the desk of Gov. Brown. A spokesperson for the governor said she is looking forward to signing the bill once it undergoes standard legal review.
What would change if the bill becomes law?
Aaron Knott, the legislative director for Oregon's Office of the Attorney General, told the Washington Post on Tuesday that one of the issues the bill hopes to address is lack of access to drug treatment programs.
Some Oregon counties already have programs in place that allow people convicted of low-level drug offenses to get treatment rather than a jail sentence, Knott said, but, as of now, those programs are mostly in wealthier counties, leaving fewer options for low-income communities.
"So if you crossed the county line with a small amount of heroin, in one county you could be looking at a felony," Knott explained to the Post. "In another county you could be looking at a misdemeanor with pretty good access to treatment. We had a feeling this was unjust because the outcome is largely due to the county's resources."
In addition to reducing charges for possession of small amounts of cocaine, heroin and methamphetamine from a felony to a misdemeanor, this bill would replace jail time with required treatment, the Statesman Journal reported.
The bill would also require law enforcement agencies to track data about traffic and pedestrian stops so that patterns of racial profiling can be addressed, allocating funding for training officers and collecting data about the stops.
All of these changes, supporters of the bill say, are steps toward making Oregon a more just place.
In a statement released Friday, Kayse Jama, executive director of the civil rights organization Unite Oregon, called the bill both "a victory for Oregonians who have been targeted by law enforcement because of who they are, where they come from or what they look like" and a "victory for law enforcement officers, who will receive needed training and an opportunity to rebuild trust in the communities they serve."