From Raf Simons to N-P-Elliott, here are the wildest and greatest looks from NYFW: Men's day 1 and 2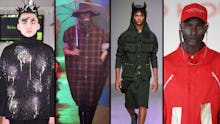 New York Fashion Week: Men's isn't often where headlines are made. In fact, it's not even a week, but rather four days, which are chock-full of brands that aren't exactly household names.
Of course, that isn't a side-eye to the fashion itself. Believe it or not, New York Fashion Week: Men's has become a rather exciting display of up-and-coming designers trying to innovate and elevate menswear.
This year in particular, there were wild stylings, gender-free displays of self-expression and yeah, a fashion-y take on a Make America Great Again hat.
And to think: We're just two days in.
Here are the best and wildest looks from New York Fashion Week: Men's so far, from just the first and second days.
This political statement at Life in Perfect Disorder
This sweatshirt at the N-P-Elliott show
This devilish jacket at the N-P-Elliott show
This pink ensemble at the N-P-Elliott show
This effort to make handkerchiefs cool again at Descendant of Thieves
These pattern combos at the Death to Tennis show
These flamboyant looks at the To Be Thrill show
These interpretations of military garb at Heliot Emil
This take on the MAGA hat at Wood House
These cuties at the Todd Snyder show
These spectacular looks at Raf Simons
These BOSS guys
Now just imagine what's in store for the next two days at NYFW: Men's.