Trump officials can never seem to remember their contacts with Russians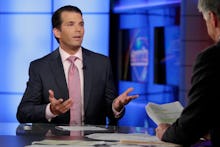 Donald Trump Jr. — the president's eldest son — told Sean Hannity Tuesday night that the meeting he had with a Kremlin-connected lawyer to collect dirt on Hillary Clinton in 2016 was "such a nothing" that he "wouldn't even have remembered it."
"It was such a nothing, there was nothing to tell," Trump said when Hannity asked if his father knew about the Trump Tower meeting with lawyer Natalia Veselnitskaya. "I mean, I wouldn't even have remembered it until you start scouring through the stuff."
Donald Jr. isn't the first in President Donald Trump's orbit to suffer a memory lapse when it comes to contact with Russians. Here are some other Trump officials who have been afflicted with this mysterious issue when reminded of their Russian connections.
Michael Flynn
Former national security adviser Michael Flynn resigned in scandal less than one month into Trump's presidency after it was revealed he had discussed sanctions with Russian Ambassador to the U.S. Sergey Kislyak before the inauguration.
When the scandal first broke, an aide close to Flynn told CNN that the retired general had "no recollection of discussing sanctions" with Kislyak but "couldn't be certain that the topic never came up."
In his Feb. 13 letter of resignation, Flynn apologized for misleading Vice President Mike Pence regarding the Kislyak discussion, blaming the "fast pace of events" for the "incomplete" information he provided Pence and others.
Jeff Sessions
There are a lot of things Attorney General Jeff Sessions can't seem to recall. Among them? Two — maybe three — contacts with Kislyak that he had previously said under oath did not happen.
Sessions recused himself from matters related to the Trump-Russia investigations in March but denied any wrongdoing, saying that he "never had meetings with Russian operatives or Russian intermediaries about the Trump campaign."
"I do not recall any discussions with the Russian ambassador or any other representative of the Russian government regarding the political campaign on these occasions or any other occasion," Sessions said.
In his testimony before the Senate Intelligence Committee in June, Sessions initially outright denied having had a third meeting with Kislyak at the Mayflower Hotel during a Trump campaign event. But when pressed later on, he seemed to hedge a bit, again blaming his faulty memory for the apparent discrepancy.
"I don't recall it," Sessions told Sen. Mark Warner (D-Va.). "Certainly I can assure you nothing improper if I'd had a conversation with him. and it's conceivable it occurred, I just don't remember it."
"Well, I guess I could say that I possibly had a meeting, but I still do not recall it," Sessions added.
Paul Manafort
Paul Manafort — who "played a very limited role" in Trump's presidential campaign, according to White House spokesman Sean Spicer — resigned as campaign chairman in August amid swirling reports about his ties to Russian interests in the Ukraine.
After the election, when reports emerged that Trump officials may have been in touch with Russian intelligence agents during the 2016 campaign, Manafort said that he had "never knowingly spoken to Russian intelligence officers."
He was later reported to have made millions of dollars working to promote Russian President Vladimir Putin's interests in the U.S.
After it was revealed that he was present in the meeting with the Kremlin-connected attorney, a source close to him told Politico that he didn't know who he was meeting with when he arrived because he hadn't read his emails all the way to the bottom.
Jared Kushner
It was revealed in April that Jared Kushner, Trump's son-in-law and senior adviser, omitted "dozens" of contacts with foreign officials — including Kislyak and the head of state-owned Russian bank Vnesheconombank — from his security clearance form.
Kushner apparently met with Kislyak in December and with Russian spy school graduate Sergey N. Gorkov, the head of Vnesheconombank, which has been a target of United States sanctions.
White House spokesperson Hope Hicks downplayed Kushner's meeting with Gorkov as "not much of a conversation," and Kushner's attorney chalked the omission up to an "error."
Donald Trump Jr.'s June 2016 meeting with Veselnitskaya came to the attention of government officials only after Kushner — who was also present at the Trump Tower rendezvous — disclosed it on a revised version of his security clearance form, according to the New York Times.
After news of the previously undisclosed meeting broke, the White House attempted to distance itself from the scandal — the president only learned of the meeting "in the last couple days" and previously "was not aware of" it.