Fred Perry would like the alt-right to please stop wearing their shirts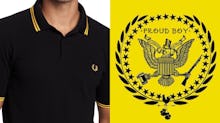 Racists throughout history have appropriated, and subsequently ruined, their fair share of iconography. Hitler put an entire style of mustache out of commission for the foreseeable future. Any shaved head on a white man can provoke a side-eye. Even the swastika spent millennia as a symbol of luck and peace before Nazis ruined that, too.
Fred Perry refuses to go down with that ship. The preppy British clothing label is speaking out against the Proud Boys, a traditionalist fraternity associated with the so-called alt-right that advocates traditional gender roles. The Proud Boys have taken up the classic Fred Perry polo in black and yellow as their de facto uniform, and the company wants nothing to do with them.
"We don't support the ideals or the group that you speak of," Fred Perry chairman John Flynn told CBC News. "It is counter to our beliefs and the people we work with."
The company has contended with such an association for decades. British racist skinheads took on the polos as a subculture in the 1970s. In 2013, French anti-fascist Clément Méric was killed in a fight with a skinhead outside of a private Fred Perry clothing sale.
Proud Boy founder Gavin McInnes claims that the reason he chose Fred Perry polos wasn't to carefully code the Proud Boys as a neo-Nazi movement, but to associate them with working class values and the so-called "mod culture" of 1960s Britain. But that's precisely why racists in the 1970s co-opted mod culture in the first place — so that nationalist movements could recruit working class youths and pit them against immigrants and people of color.
It worked. The term "skinhead" lost its working class valor and is now considered the mark of a racist.
Not everything from mod culture was subsumed by racist subcultures. Doc Martens saw a recent resurgence, despite their association with racist skinhead culture. Perhaps Fred Perry will make it out of the wreckage of mod culture as well.