4 key takeaways from Christopher Wray's FBI director confirmation hearing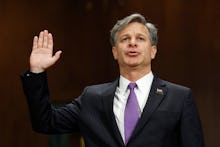 FBI Director nominee Christopher Wray was grilled Wednesday by the Senate Judiciary Committee as they sought to determine whether he was fit to lead the law enforcement agency.
Wray's confirmation hearing came at a crucial time for the FBI, which is currently investigating whether President Donald Trump and his campaign colluded with the Russian government in its coordinated attempt to influence the 2016 presidential election.
It also came amid controversy following Trump's unexpected firing of now-former FBI Director James Comey in May. Comey has testified under oath that he believes he was dismissed because he wouldn't end the Trump-Russia inquiry.
Here are three key takeaways from Wray's hearing.
Trump and the Russia investigation hung over the hearing
While some senators asked questions about Wray's views on matters like torture, whistleblowing and other law-enforcement issues, most of the questions pertained to Wray's thoughts on the role he'd play as head of the FBI during the ongoing Russia investigation.
Wray vowed he'd be an impartial and independent director who would never pledge loyalty to a president — something Trump reportedly demanded of Comey.
During a line of questioning from Sen. Pat Leahy (D-Vt.), Wray said he would resign rather than do something he felt was unlawful at the request of the president.
Wray also he said he had faith in special counsel Robert Mueller's investigation into the Trump-Russia ties, taking issue with Trump's characterization of the investigation as a "witch hunt."
"I do not consider Director Mueller to be on a witch hunt," Wray said, adding that Mueller is a "consummate straight shooter" whom he has "enormous respect for."
"I would be pleased to do what I can to support him in his mission," Wray added of Mueller's investigation.
Wray was pushed into admitting Donald Trump Jr. should have alerted the FBI to his Russian meeting
During a line of questioning from Sen. Lindsey Graham (R-S.C.), Wray admitted that Donald Trump Jr.'s meeting with a Russian lawyer — knowing it was part of the Russian government's attempt to aid his father's campaign — was something the FBI would have liked to know about at the time.
"If you get a call from somebody suggesting that a foreign government wants to help you by disparaging your opponent, tell us all to call the FBI," Graham said to Wray, pushing him to issue a forceful rebuke of Donald Trump Jr.'s behavior.
"To the members of this committee, any threat or effort to interfere in our elections from any nation state or any non-state actor is the kind of thing the FBI would want to know," Wray said.
Wray also said Russia must be viewed "very warily," and that he had no reason to doubt the U.S. intelligence community's conclusion that Russia meddled in the 2016 presidential election.
He had some criticism of how Comey handled the Hillary Clinton email investigation
While Wray said he worked with Comey and had respect for him, he said he wouldn't have handled the Clinton email investigation the same way.
Wray said he would not have held a press conference on someone who was not going to face charges, as Comey did.
"I can't imagine a situation where I would be giving a press conference on an uncharged individual," Wray said.
He's very likely going to be confirmed
Wray only needs 50 votes to be confirmed as FBI director — with Vice President Mike Pence serving as the tie breaker. That means he could be confirmed without a single Democratic vote, given Republicans hold 52 seats in the chamber.
And not one Republican on the Judiciary Committee appeared to have issues with Wray or his testimony.
Even Democrats appeared satisfied with his answers.
"I'm going to support you," Sen Richard Blumenthal (D-Conn.) told Wray.
"It's going to be an interesting life," Sen. Orrin Hatch (R-Utah) told Wray, speaking as if it were preordained that Wray would win confirmation.
Graham said Wray is "the right person at the right time" to lead the bureau.