Bakersfield, California, police arrest black teen girl mistaken for a large, bald black man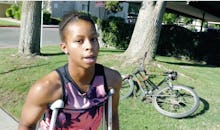 A black California teenager alleges she was punched, bitten by a K9 officer and arrested after being mistaken for a larger, bald black man.
The June 18 incident went viral Monday after the NAACP's Bakersfield, California, chapter posted a Facebook video of 19-year-old Tatyana Hargrove sharing her story. The video had more than 4.6 million views as of Wednesday evening.
While the NAACP believes Hargrove was racially profiled, the Bakersfield Police Department insist it was a simple case of mistaken identity. The department said the officers mistook Hargrove — who stands 5 feet 2 inches tall and weighs 115 pounds — for a 5-foot-10-inch, 170-pound bald black man with a goatee who was allegedly threatening people with a machete outside a nearby grocery store.
Hargrove, who has visible wounds and is seen using crutches in the video, said she was riding her bike to get a Father's Day present when she stopped to get a drink of water from her backpack. She then noticed three police cars approaching and claims one officer immediately pulled his gun after exiting his patrol car.
Hargrove said the officers asked to search her backpack, which she originally refused to do until they pointed out the accompanying K9 officer. She also alleged that one officer grabbed her wrist and neck, punched her and then threw her on the ground, at which point another officer pinned her down with his knees while the K9 attacked her.
"I told him, 'I can't breathe, I can't breathe' and then I started yelling out 'Somebody help me, somebody help me, they're gonna kill me,'" Hargrove said in the video.
According to the Root, Hargrove was then arrested on suspicion of resisting or delaying an officer and aggravated assault on an officer.
In a police report obtained by the Bakersfield Californian, arresting officer Christopher Moore said he didn't know Hargrove was a woman until after she was handcuffed. He also failed to ask for her name until she was in the backseat of the patrol car. When Hargrove responded, he originally did not believe her.
"Don't lie to me, that's a girl's name. What is your name?" Moore asked, according to the police report.
"I'm a girl, I just don't dress like one," Hargrove said.
No charges have been filed against the officers involved, but the case against Hargrove has been forwarded for review to the Kern County District Attorney's office.
The district attorney's office told Mic it would release a statement once decisions are made on the case. The Bakersfield police did not respond to Mic's request for comment.