Japan is the world's most underrated destination for ice cream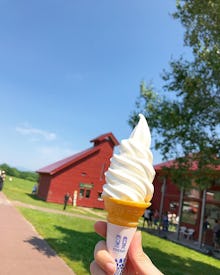 This week, Out of Office is celebrating all things ice cream. Follow along as we explore the sweet history and unexpected influences of America's favorite dessert.
In the weeks before a recent trip to Japan, I imagined eating the freshest uni, buttery tuna, endless varieties of rice-based concoctions and some of the most transcendent noodles to ever be served in a bowl.
The things I ate in Tokyo, the islands of Honshu and Hokkaido met my wildest expectations: There was the uni on the Shakotan peninsula which spent mere hours between ocean and my mouth, thanks to the fishmonger who generously heaped a donburi bowl with a heady layer of the delicacy; the glistening mounds of tuna sashimi at a local sushi haunt in Kanazawa that made the Brooklyn supermarket variety I regularly eat taste like pencil eraser; the pockets of onigiri stuffed with tangy umeboshi plum that became my regular afternoon walking fuel in Tokyo; and soba noodles kneaded, wound and trimmed before my eyes by a world-renowned master in Niseko.
What I didn't expect: a revelatory dairy education that would deepen my childhood affair with milk-flavored ice cream.
It all began the first time I tried fior di latte gelato in Italy, which, to an impressionable 10-year-old, had little in common with the swill being marketed as milk in the U.S. Those two scoops awakened my taste buds to milk in a way that no glass or cereal bowl in the Massachusetts suburbs ever had. I was hooked.
So, at every gelato parlor my family visited in the summers thereafter, I would utter only three words: fior di latte. Decades later, no matter what ice cream joint I find myself in, my first choice is always whatever most closely approximates milk ice cream. Some, like Morgenstern's raw milk version, have come close to recalling that initial dairy-filled buzz. But it wasn't until I landed in Japan that my addiction finally felt fully satiated.
What I didn't know before my trip is that Japan — and its northernmost island of Hokkaido in particular — is a dairy mecca. After all, most East Asian diets are notably bereft of the dairy creature comforts which characterize our Western eating habits. It was Europe's influence that caused dairy (and beef) to be introduced to the Japanese masses in the late 1800s; during the Meiji era, the leaders believed consumption of both would result in a physically stronger population.
The very first dairy farms established in Japan were in Hokkaido, and they still dominate today: The prefecture produces more than 50% of the country's milk. And Hokkaido's dairy products are not only the most prevalent, they are the most prized; it seems all that bucolic countryside and fresh, unpolluted air makes for much happier cows, ergo more delicious milk. Look at many dairy products for sale in supermarkets throughout Japan and you'll see their Hokkaido origin prominently highlighted on the label, an indication of premium quality.
When I found myself deep in the heart of Japan's dairy country, my brain didn't immediately jump to milk ice cream. It certainly should have, though, considering all the scoops I'd already devoured on the trip. The soft serve that's now a ubiquitous presence throughout Japan was first brought to the country by American troops in the 1950s and, since then, the flavor options have been endless. On my visit, I ploughed through flavors like matcha, black sesame, asparagus, five-cheese (more like cheesecake than fondue), melon (a seasonal summer specialty), sweet potato and wasabi.
But it was at a popular dairy farm in the Hokkaido town of Niseko called Milk Kobo — where lines regularly form for their light-as-air crème puffs oozing with a yolky-yellow vanilla-laced cream, sweet drinkable yogurt, delicate cheese tarts and rings of spongey baumkuchen cake — that I achieved milk ice cream nirvana. Their milk soft serve — pure, unadulterated milky goodness — instantly transported me back to the visceral pleasure of that first taste of fior di latte.
Turns out the joy of first discovery is matched only by that of rediscovery.