'Mafia 3' DLC: "Sign of the Times" release date will bring cult-killings to New Bordeaux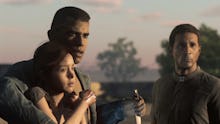 If you liked Mafia III and want more, there's good news in the form of an upcoming downloadable content expansion. The "Sign of the Times" DLC is set to launch soon.
Mafia III was one of the most underappreciated gems of 2016. Sure, its open world design bordered on tedious, but its tremendous voice acting, memorable characters and refreshingly honest confrontation of race made it a pulp story worth experiencing.
Whether you're coming in fresh or revisiting Mafia III to check out the new DLC, here's what you need to know.
Mafia 3 "Sign of the Times" DLC release date brings cultist mayhem to New Bordeaux
"Sign of the Times" is an investigative thriller about a swamp cult operating in New Bordeaux called The Ensanglante, which is a Manson-esque outfit complete with human sacrifices and weird masks. As protagonist Lincoln Clay, you'll use forensic tools to investigate what the hell these folks are up to, as well as go through some gnarly looking hallucination sequences.
It's out on July 25 and is the third and final DLC after "Faster, Baby!" and "Stoned Unturned." I'm personally pretty jazzed about it. Mafia III is fantastic and the premise reminds of me of Dragnet, which I also love. Unfortunately, I doubt Tom Hanks and Dan Aykroyd will do any rapping in "Sign of the Times."
More gaming news and updates
Check out the latest from Mic, like this essay about the sinister, subtle evils lurking in rural America that Far Cry 5 shouldn't ignore. Also, be sure to read our review of Tekken 7, an article about D.Va's influence on one Overwatch player's ideas about femininity and an analysis of gaming's racist habit of darkening villains' skin tones.