'Overwatch' Fan Art: D.Va, Tracer and 13 other characters reimagined in 1950s retro style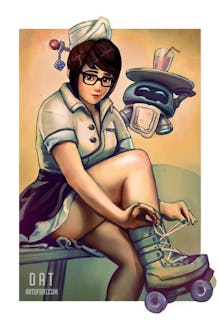 Overwatch fan art is everywhere, with no shortage of street-style Overwatch to drool over. There's the adorable fan-fueled 'ship between Lucio and Doomfist. And now, there's a retro-flavored '50s set to get excited about over at Art of Dat, run by Canadian artist Andrew Tran.
There are 15 Overwatch heroes Tran has reimagined as greasers, rockabilly babes and pool-hall hustlers.
Overwatch fan art: Check out greaser Junkrat, pampered Symmetra and more
I have a soft spot for ultra-stylized '50s retro and rockabilly. There's a lot to love there, at least aesthetically. I took a look at each of the retro Overwatch heroes, because how could I not?
Overwatch retro fan art: Pampered Symmetra
This doesn't quite fit with the Overwatch lore, as Symmetra is a light-bending architect. She would probably tear off these baubles so she could get back to work. But the aesthetic is crisp, clean and definitely in line with how Symmetra shows up in-game.
Overwatch retro fan art: Summer Lovin' Sombra
Everyone loves a bad girl, and Sombra is styled here as the quintessential '50s greaser bad girl. Way more hardcore than Rizzo, if you ask me. That victory roll has me longing for the days when my hair was longer.
Overwatch retro fan art: Jailhouse Hanzo
And to follow-up with our bad girl, here we have our classic bad boy: Hanzo. I'm imagining the '50s lore behind Hanzo's trip to jail. Maybe he fell in with the wrong crowd. Maybe he was busted for drug running. But I love how his in-game tattoos have been replaced with era-specific tattoos.
Overwatch retro fan art: Good Rockin' McCree
McCree doesn't need it to be "high noon" anymore. He's too busy cruising from town to town, playing the seedy bars and getting drunk on cheap whiskey. I'd imagine he's got fast enough fingers for a great rock solo, though.
Overwatch retro fan art: Breakfast at Ana's
These victory rolls are absolutely killing me. Ana is the picture of sophistication with her jaunty chapeau and neatly tied kerchief. The palette ties in perfectly with her "Captain Amari" skin, too. And don't even get me started on how perfect her jewelry is. Ana's retro aesthetic is the bee's knees.
Overwatch retro fan art: Lounge Bar Mercy
"Heroes never die" has got to be the name of Mercy's single. I'm not crazy about her outfit — it feels inelegant and not quite her style. It would have been wonderful to see her in an elegant gown, perhaps this one from Christian Dior.
Overwatch retro fan art: Carhop Mei
I've been to exactly one drive-in diner in my life and the waitstaff wasn't nearly as adorable as Mei and Snowball, her robot buddy. And as much as I love Mei's whole outfit — right down to that cute little skirt — I can't get over Snowball's apron. Cute overload.
Overwatch retro fan art: Zarya the Riveter
How utterly impeccable. If there was ever the perfect candidate to pay homage to Rosie the Riveter, it's Zarya and her big Russian muscles. It's hard to keep Zarya's muscular frame from looking too bulky, but Tran did a hell of job balancing her square jaw and her pretty cheekbones in his work. I adore this piece to no end.
Overwatch retro fan art: Drive-In Bastion
While this doesn't do much to combat my irrational irritation with Bastion (and Bastion mains), I do love the attention to detail here. Bastion's chrome plating and the very Ford Mercury Montclair aesthetic is pretty gorgeous. I miss his bird friend, though. You could've given him a tiny leather jacket or something, Tran!
Overwatch retro fan art: Poolyatta
Zenyatta, friend, we need to talk about your hair. As far as the era goes, it's pretty on point, but it looks profoundly silly. There's something about an Omnic with hair that makes me raise both eyebrows in confusion. It's hard to imagine Zen in a pool hall, probably hustling arrogant drunks. But you know he's probably muttering, "Pass into the iris" as he sinks ball after ball.
Overwatch retro fan art: Rockabilly D.Va
Rockabilly D.Va. As I live and breathe, I never thought I'd see the day. She would absolutely be the adorable mechanic hanging out and working on her MEKA. This makes up for the fact I didn't get her very similar in-game skin, because I can at least buy this piece of art to hang on my wall.
Overwatch retro fan art: Retro Widowmaker
On first blush, Widowmaker looks so innocent. "Don't mind me, cherie," she says as she finishes her malt. "I'm only here for the chocolat." I bet she's hiding a sniper rifle under her table, too.
Overwatch retro fan art: Greaser: 76
Soldier 76 is looking very James Dean meets Kenickie in his Greaser look. It's weird to see Soldier 76 with a cigarette in his mouth (no way he'd be a smoker) but the aesthetic is so iconic. I'm loving that smoldering swagger.
Overwatch retro fan art: Hot Rod Tracer
This little cutie right here is my absolute favorite of the bunch. I love everything about her, from her Union Jack bandana to the "hot rod" details on her leather jacket. I can imagine Tracer zooming around with those grills and it makes me smile. Adorable incarnate.
Overwatch retro fan art: Greaserat
Who knew Junkrat could be kind of attractive? Maybe? I don't know how to feel about this, to be honest. I'd probably buy that leather jacket for my partner, that's all I know for sure. Keep being slick, Junkrat.
You can purchase any of these beautiful retro-styled Overwatch pieces on the Art of Dat website.
More Overwatch news and updates
For more on Overwatch, check out the rest of what Mic has to offer. Here is an intro to the cute, new "Wholesome Overwatch" subreddit, a look at some gorgeous Overwatch-themed PS4 and Xbox One controllers, a cool Easter Egg in the new Horizon Lunar Colony map and a criticism of Blizzard's failures in its design of Symmetra.