Zachary Quinto is on a mission to save the world's 3,890 remaining tigers from extinction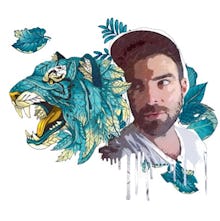 From Fred Flinstone hawking Winston Cigarettes in the 1960s to Lo Bosworth shilling activated charcoal margaritas earlier this year, it's hard to know what brands or causes celebrities really care about versus what they are being paid to feign interest in. But when it comes to actor Zachary Quinto, a man on a mission to help save the world's dwindling population of tigers, the altruism of his intent could not be more clear.
"I'm a longtime, well-documented animal lover," Quinto said in an interview. It's true: In 2011 Quinto raised over $30,000 via Kickstarter to fund a short film — Dog Eat Dog —  about his experience trying to adopt a dog for the first time. Beyond entertainment, the film helped raise not only awareness but made a sizable donation to Los Angeles dog shelters. Quinto doesn't just care about the lives of household pets, though. "I'm intrigued by and engaged in the conversations about our environment and the impact of our civilization on nature," he said.
But what really convinced him to join World Wildlife Fund (WWF) and Tiger Beer for the #3890Tigers movement is one staggering statistic: One hundred years ago, there were 100,000 wild tigers. Today, as few as 3,890 remain in the wild. That's a 96% population decline.
For Quinto, it's not about harping on what's been done — that, of course, can't be changed — but what can be done to save what remains. "I felt like my voice could help amplify and engage people in a way that something could actually done. This feels like something that could be reversed," he said, adding that it's a combination of poaching and environmental impact that have led us to where we are today with regard to this crisis.
"I recently saw a documentary that had more to do with elephants and rhinos than it did with tigers, but it's all in the same world — it's called The Last Animals, and it's about the dire situation that the environment rangers find themselves in. These are oftentimes local community members who are organizing to fight this really insidious attack on animals at great personal risk to themselves and their families."
In particular, Quinto liked the part of the #3890Tigers initiative that was supporting this network of rangers: giving them organization and infrastructure to really be effective in combating this. It's also a cause Quinto deeply feels can be course-corrected through responsible consumption.
"If you think about the destruction of our environment halfway around the world, it becomes a little bit of a daunting thing to tackle as you're holding an empty water bottle in your kitchen," he said. "But if you really think about everyone in their kitchens holding an empty water bottle and putting that in a recycling bin instead of the trash, that adds up, and the reverberations of that can be felt as far away as the environments in which these tigers are being affected."
How can you get involved? Two ways: Join Quinto and other stars like Megan Fox by deleting your Instagram profile pics to reflect the disappearance of wild tigers or help back a ranger with a donation of which Tiger Beer will match any amount up to $25K.