Best doctors near me: 9 smart steps to find and keep a good doctor in your insurance network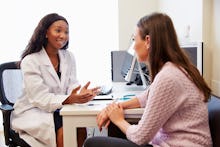 Are you having trouble finding a good doctor near you — whom you actually like, who takes your insurance, who doesn't hit you with unexpected bills and who actually has time to see you before the year 2019? Maybe you just need someone to call if your allergies are acting up or if you have a weird symptom you're worried about. Having a regular doctor you trust means that person can get to know you — and you'll always have someone to answer questions.
Unfortunately, more than a quarter of all millennials don't have a primary care provider, according to a 2016 survey conducted by Transamerica Center for Health Studies. Those without a primary care doctor were more likely to rely on a family member or the internet for health information, rather than a medical professional — an unwise move if it means you won't get a serious issue diagnosed correctly.
If you're ready to find a new doctor, there are a few key factors to consider, including some important intangibles. "As a physician, I can look up people's credentials, where they graduated from medical school, where they did their training," Dr. Leana Wen, an emergency room physician and author of When Doctors Don't Listen, said in a phone interview. But "I find that to be a lot less helpful at the end of the day than making sure the doctor is someone I can trust, that I can talk openly with and that has a communication style I'm comfortable with."
With that in mind, how exactly can you find an in-network doctor you can trust — who also provides high-quality care? This 9-step guide will help.
1. Find a doctor before you get sick, if you can
When you're feeling good, you're probably not thinking about finding a primary care physician. The problem is, if you wait until you're already sick before you start looking, you'll be at a serious disadvantage. "Many people wait until they're quite ill to find a doctor," Wen said. "You may have the flu, not be able to speak because of a sore throat or be feeling feverish. When you're feeling terrible, that's not the right time to start figuring out if a doctor is right for you."
When you are feeling well, you can take the time to make sure the doctor participates in your network and that you are comfortable with their bedside manner and billing practices. You can also make sure that the office is conveniently located, doesn't make you wait too long and is willing to call in prescriptions instead of making you come in every time you need a refill.
Going to the doctor when you're feeling good is also important: It is smart to get basic preventative checkups, exams and immunizations — still covered under current law at no cost to you. Wen advises making an appointment for an annual exam first. "Evaluate the doctor when you're feeling your best, and be honest and open during your regular preventative checkup to start building a lasting relationship," she said.
2. Use smart tools to choose the best doctor
When looking for a doctor, Wen stressed the importance of finding someone you get along with and who has values in line with yours; finding a doctor via word of mouth can be the best way to do that.
"Word of mouth seems like an old-fashioned approach," she said. "But, your friends and family are people you communicate well with who share your values. If they like their doctor, chances are you will also get along well with that person." Friends at work can be a great source of info on a doctor, as you may have the same insurance coverage if you both get your policies through your employer.
If you can't get a personal recommendation, start searching physician directories online. Zocdoc is a great resource for finding in-network doctors in your area, particularly if you need a last-minute appointment. In addition to being able to search by zip code and health insurance plan, you can see who has an opening the soonest and how well others have reviewed their services.
Lastly, check your insurance providers list of doctors who participate with your policy — like this one from Cigna or this one from Blue Cross Blue Shield.
3. Cigna? Aetna? Find an in-network doctor — and always double check with insurers
Once you've found a doctor that fits your criteria, call both the doctor's office and your insurer to make sure the physician actually takes your insurance. Just because they take one particular Aetna, Humana, Cigna, United Healthcare, Anthem or Blue Cross Blue Shield plan doesn't mean they take all of them.
Provider directories are not always up-to-date on whether a particular doctor participates in a plan or not. Conversely, a doctor may tell you they participate in your plan, while your provider has no record of that. You need to make sure both the doctor and the provider agree that they are in-network. Otherwise you may get stuck with a large bill with no way to fight it.
If you call your insurer and get verification of coverage, ask for the name and ID number of the representative you spoke with and ask to be sent confirmation of coverage in writing in case you get denied after the fact.
4. Research the doctor's credentials and read up on reviews
Next it's time to do a background check to make sure the physician is board certified. The American Board of Medical Specialties certifies doctors who earn medical degrees from qualifying schools, complete accredited residency training, pass examinations by the board and obtain licensure from the medical board in their state. Certification Matters allows you to conduct a search to see if your doctor has board certification. You can also call 1-866-ASK-ABMS. Make sure you know the difference between MDs and other types of degrees.
Credentials are one thing, but reviews can tell you more about a doctor's people skills. AngiesList.com, HealthGrades.com and RateMDs.com are three websites recommended by Consumer Reports to find ratings and reviews.
Lastly, find out if your doctor has faced disciplinary action or has been sued for malpractice, both of which can be red flags of serious problems. The Federation of State Medical Boards lists local medical boards, which you can contact to find out if a doctor has had disciplinary action taken.
5. Prepare for your doctor's visit as if you were going to a job interview
Once you've checked out your doctor, it's time to make an appointment and see if you connect in-person. "Prepare for your doctor's visit the way you would prepare for a job interview," Wen said. "Your health is a lot more important than an interview, and you only have a limited time with your doctor so you should prepare as much as you can in advance."
Wen advised writing down any concerns, symptoms and existing health problems. You should also bring a full medical history. Bringing an organized printout of your medical history can save time during your visit, U.S. News & World Report suggested. Divide your history into sections for treatments, allergies, family medical history and past and current illnesses.
Also, all new patients should remember to bring ID and their medical insurance card to the first visit; other important details — like the dates of your most recent immunizations and periods — could also be helpful.
6. Make sure the doctor is a good listener
Having a doctor who pays close attention to you is vital, as your doctor's ability to provide care depends upon his or her understanding of your health status. "Look for someone who really listens," Wen said. "Eighty percent of diagnoses are based on the patient's story alone. I want someone who diagnoses me correctly, and in order to assure they're making a correct diagnosis, they have to be actively listening."
If the doctor is not taking notes when you talk or doesn't seem to be hearing you, they may not be the right one. "It all comes down to communication and whether you feel like you're asking questions and they're not being answered," Carolyn Clancy, director of the Agency for Healthcare Research and Quality told U.S. News.
"The doctor is the expert when it comes to science and medicine; the patient is the expert when it comes to his or her own body," Wen explained. If your doctor isn't really focused on you, something important could be missed.
7. Check that you really get along
Doctors, like any other professionals, have different personalities and different ways of interacting with patients. You need to find a doctor who interacts with you in a way that puts you at ease.
"I look for someone who wants to engage with me as an equal partner," Wen said. "But there are patients who don't want that style, who want to follow their doctor's advice to the letter and who want to be told what to do. You have to decide what you want and look for those characteristics."
One thing that's never acceptable, though: a doctor who trivializes your concerns or who is rude or condescending. If a doctor, say, walks out of a room when you're still talking, Clancy told U.S. News, that's a major red flag.
8. Find a new doctor if your current MD never has time for appointments
Does it take weeks to get an appointment for routine care or more than a day to get an appointment if you're sick? How long is the usual wait time for an appointment? These are all questions Consumer Reports recommends finding out the answers to when you're choosing a doctor.
Ask the doctor or staff these questions and make sure you're OK with the answers. If it takes longer than a week to get an appointment or if the doctor regularly goes to lunch with drug reps who could potentially influence prescribing policies — even subconsciously — you may want to find a different physician.
9. Always have an "emergency room" plan
Finally, you want to ask where the doctor has admitting privileges at hospitals in your area. If you need to be admitted to the emergency room for any reason, you'll want your primary care doctor to be able to admit you and consult on treatment without you having to go to an out-of-network hospital. Consumer Reports has hospital ratings so you can make sure the hospital you'd need to go is a high-quality one that will provide an acceptable level of care.
Sign up for the Payoff — your weekly crash course on how to live your best financial life. Additionally, for all your burning money questions, check out Mic's credit, savings, career, investing and health care hubs for more information — that pays off.