Steve Scalise reportedly released from ICU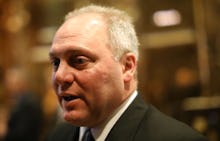 House Majority Whip Steve Scalise has been released from the intensive care unit, the Associated Press reported Wednesday.
Scalise, a Louisiana Republican, was severely wounded in June when a gunman opened fire on a practice for the annual Congressional Baseball Game in Alexandria, Virginia.
The shooter, James T. Hodgkinson, had repeatedly railed against Republicans.
Hodgkinson died from his injuries in the shooting, which left five, including Scalise, wounded.
The hip wound left Scalise in critical condition, and President Donald Trump said at the time that the Majority Whip was in "very tough shape," but a "real fighter."
Earlier this month, Scalise was readmitted to the ICU in serious condition over "new concerns for infection."
According to reports, Scalise remains in serious condition.