Lana Del Rey's latest tracks are prime anti-summer anthems, and they're brilliant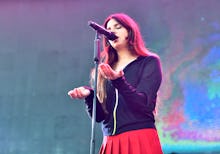 If five years of Lana Del Rey music have taught us anything, it's that joy in her world feels very different than it does in any other pop star's. Even Lust for Life, which she's framed as her brightest and most optimistic album to date, has been led by singles dripping with a sense of her highly fashionable world-weariness. Her latest — "Summer Bummer," featuring A$AP Rocky and Playboi Carti, and "Groupie Love," featuring A$AP Rocky — are no exception. They're summery on the surface, but they feel nothing like any other summer song currently getting any play on the charts or in any of music's pop-facing publications.
For the most part, these kinds of summer songs generally follow a strict formula — one the BBC outlined in a piece earlier this week. It has to "make you feel like you're on holiday," be "radio-friendly" and "have the word 'summer' in the title," per three of the publication's prescriptions. That generally boils down to exactly one type of song — tunes that are unabashedly chipper ("Can't Stop the Feeling"), flashy ("Fancy") and thirsty ("Cool for the Summer").
Lana Del Rey's latest are pretty much the opposite of all that. Both cast sardonic, low-key eye rolls at the culture surrounding summer music. They should be extremely refreshing for anyone bored of music insisting this season is supposed to be one long, endless picnic and nothing else.
Both tracks show Lana Del Rey winding out her dreamy Hollywood sway over light, trap-infused beats, which A$AP Rocky settles into easily. They build upon the chemistry they first captured with their roles in Lana Del Rey's "National Anthem" video.
"We traveled for weeks just to escape your demons" Lana sings on "Summer Bummer." "But you've got your reasons/ In making me crazy." The "Don't be a bummer" refrain feels like an explicit wink at that pop song logic that one has to save their headier ballads for the colder months.
"Groupie Love" borrows more American heatwave imagery ("key lime and perfume and festivals") to depict a seemingly mismatched romance between an artist and a fan. Outwardly, Rocky and Del Rey paint their loves as idyllic and deeply felt. But tensions peek through — with Del Rey "pretending that nothing means anything" and Rocky illustrating the chaos that follows the touring rock star lifestyle.
The long, languorous harmonies and slow, sultry pace lend both songs devastating high stakes. And Del Ray, per usual, handles them effortlessly. The narratives feel real and consequential, drawing from emotional reservoirs far deeper than just about any other pop track that ever sported the word "summer" in its title. The rest are kiddie pools in comparison.
Mic has ongoing Lana Del Rey coverage. Check out Mic's Lana Del Rey hub here.