House Democrat introduces article of impeachment against Donald Trump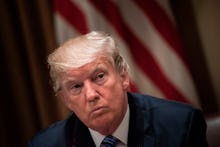 Rep. Brad Sherman (D-Calif.) on Wednesday introduced an article of impeachment against President Donald Trump, saying he obstructed justice when he fired former FBI Director James Comey.
"Recent disclosures by Donald Trump Jr. indicate that Trump's campaign was eager to receive assistance from Russia," Sherman said in a statement. "It now seems likely that the president had something to hide when he tried to curtail the investigation of national security advisor Michael Flynn and the wider Russian probe. I believe his conversations with, and subsequent firing of, FBI Director James Comey constitute obstruction of justice."
The article — the first formal legislative move taken to remove Trump from the White House — was co-sponsored by Rep. Al Green (D-Texas) but reportedly does not have any other supporters at this point.
The filing comes days after it was revealed that Donald Trump Jr. — the president's eldest son — met with Kremlin-connected attorney Natalia Veselnitskaya during the 2016 campaign in an attempt to collect damaging information about Democratic nominee Hillary Clinton being proffered by the Russian government.
Paul Manafort, then the chairman of Trump's campaign, and Jared Kushner, the president's son-in-law and senior adviser, were also present at the meeting. According to a White House statement, the president had been unaware of the meeting until the "last couple days."
"I am introducing Articles of Impeachment to begin a long process to protect our country from abuse of power, obstruction of justice and impulsive, ignorant incompetence," Sherman said in a statement.
The California congressman's impeachment push is currently a longshot in a House controlled by Republicans, who have weathered several political storms with Trump and don't appear to be running away from him yet. Even some Democrats have expressed concern that launching an impeachment effort prematurely could hurt the party.
"We believe strongly that a discussion about impeachment is not timely," House Minority Whip Steny Hoyer (D-Md.) said when Sherman floated moving to impeach Trump in June.
Talk of impeachment has swirled since before Trump even took office, but it intensified after he fired Comey, who was heading the FBI investigation into potential collusion between his presidential campaign and Russia.
That firing — along with reports that Trump asked Comey to kill an investigation into former national security adviser Michael Flynn, who resigned in February over a contact with Russian ambassador Sergey Kislyak — amount to "high crimes and misdemeanors," according to Sherman.
"The Constitution does not provide for the removal of a president for impulsive, ignorant incompetence," Sherman said in a statement. "It does provide for the removal of a president for high crimes and misdemeanors."
According to the article of impeachment filed by Sherman, Trump has "prevented, obstructed and impeded the administration of justice during a federal investigation." Sherman said his statement that Trump's interactions with and subsequent firing of Comey violated federal code 18 U.S.C. § 1512 (b)(3), which applies to any official who "knowingly uses intimidation, threatens, or corruptly persuades another person, or attempts to do so."
Only two United States presidents — Andrew Johnson and Bill Clinton — have been impeached; each was acquitted by the Senate and remained in office.
Sherman said the move could represent "the first step on a very long road" and suggested that "Republicans will join the impeachment effort" if the president's "impulsive incompetency continues."
"As the investigations move forward, additional evidence supporting additional Articles of Impeachment may emerge," Sherman said. "However, as to obstruction of justice ... the evidence we have is sufficient to move forward now. And the national interest requires that we do so."